Hospitality
With detailed experience in exterior and interior wayfinding consultation, signage design and fabrication of illuminated signs, Creative Sign Designs is the perfect partner for your hospitality signage needs. Creative's capabilities to design, fabricate and install custom signage are ideal for the most custom and cutting edge hotel while preserving consistency for the recognizable industry leader. Trust a leader in hospitality sign design for your next signage project.
We invite you to review our hospitality signage case studies for real life examples of what Creative can do for hospitality sign design.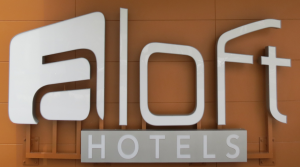 For its spring 2015 opening, Aloft Hotel in Miami Beach needed signage that reflected the modern interiors and features hidden within its historic landmark building. It was vital that the owners achieved a happy medium. In other words, they required signage experts that understood the importance of respecting the traditions of the past as well as the necessity of keeping up with modern times.
The Creative team helped this Starwood Hotels & Resort hospitality location carry its branding forward into the contemporary era without losing sight of its origins.
Read about the full interior and exterior sign package Creative implemented at Aloft Hotel in Miami Beach, Florida.
When local boutique hotel The Epicurean needed a custom turnkey sign package, they called on the experts at Creative to complete the job.
From a flawlessly executed exterior blade sign complete with welded scrollwork to carved tenant signage and custom way finders that incorporated high-end materials like cork, Creative built a pervasive sense of style that unified the entire space. Our teams created an innovative elevator lettering system with a chic measuring cup theme and guestroom signs that resounded with rich culinary influences.
Creative helped the Epicurean Hotel eke out a unique space that clearly set it apart from its SoHo neighbors. In the process, we were able to ensure that the venue would become a staple of the region and outshine its many gastronomy-minded competitors.
Read about the custom hospitality signage Creative implemented at the Epicurean Hotel in Tampa, Florida.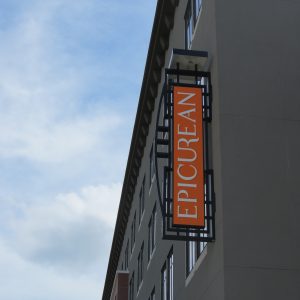 Creative Sign Designs is proud to work with these recognizable names in the hospitality industry. Let us know how we can help your business today!