Project Detail
Second Harvest Food Bank of Central Florida, located in Orlando, is one of 50,000 non-profit organizations supported by Feeding America.  Feeding America is the leading domestic hunger-relief charity in the United States. Since 1979, Feeding America has fed America's hungry through a nationwide network of food banks and food rescue organizations. Through this network of 200 food banks, they supply more than 3 billion pounds of food each year.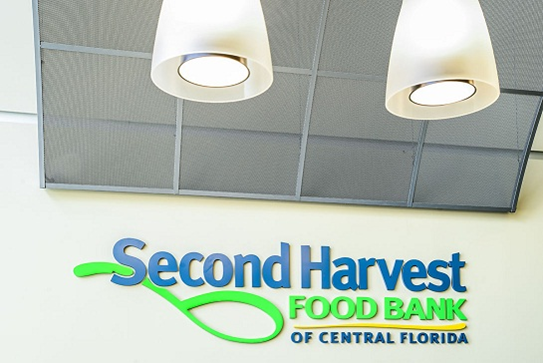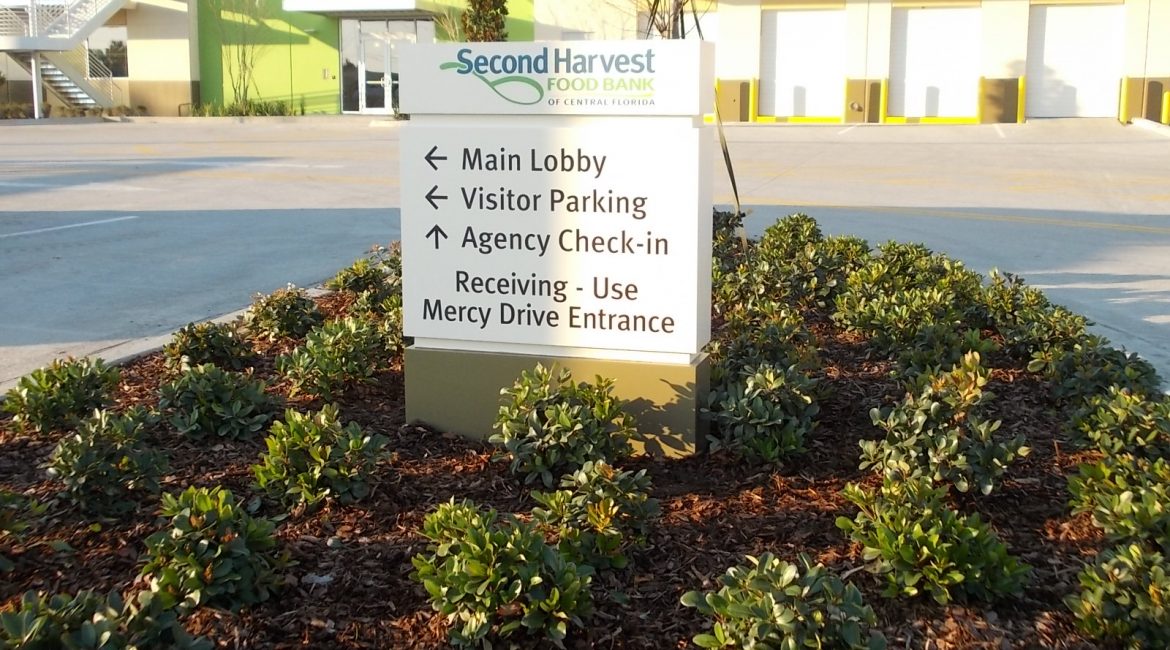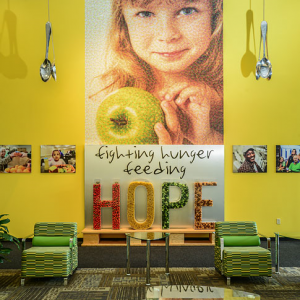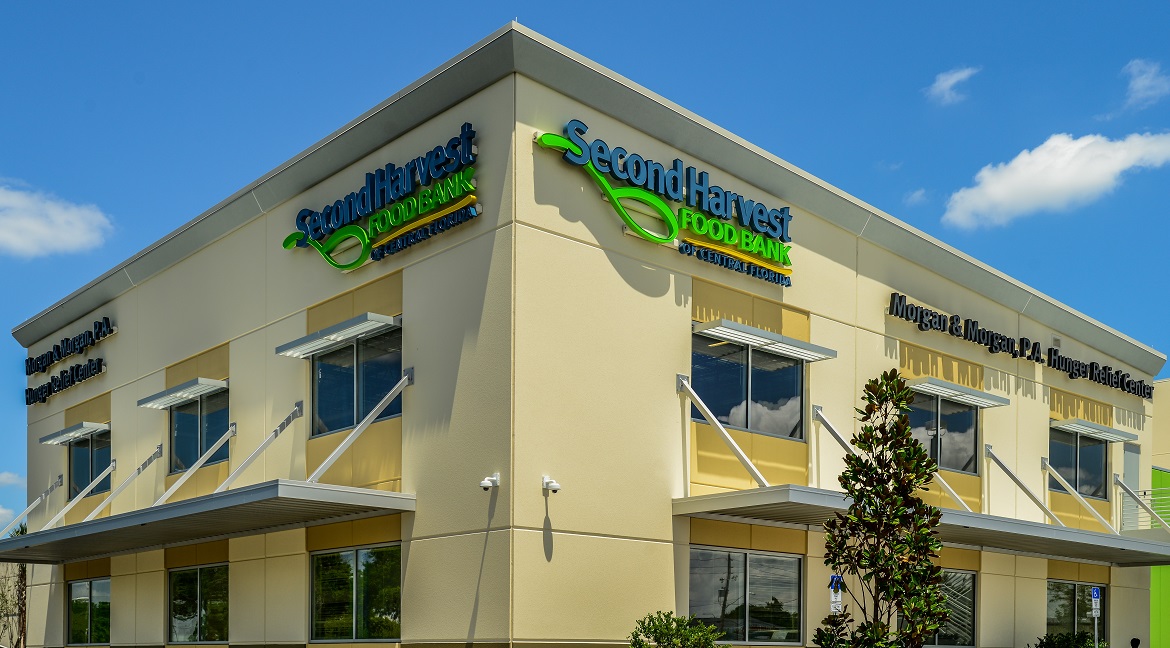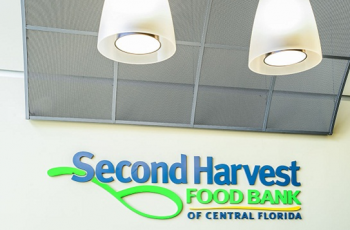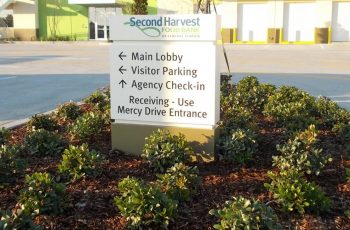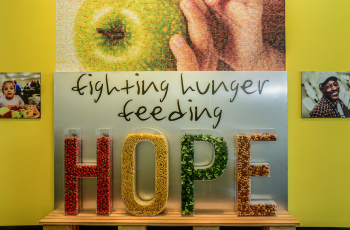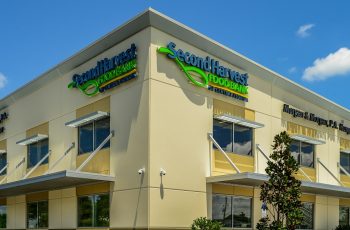 Donor Recognition Wall
 Custom ADA Signage
 Interior and Exterior Wayfinding
 Channel Letters
 Window Decals 
 Custom Wall Graphics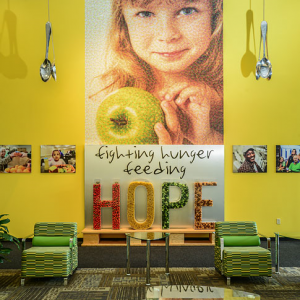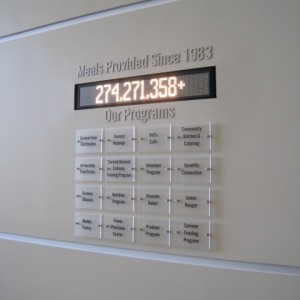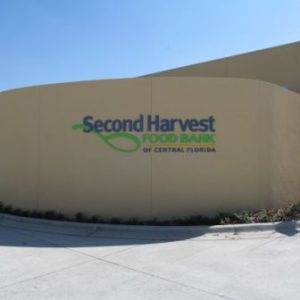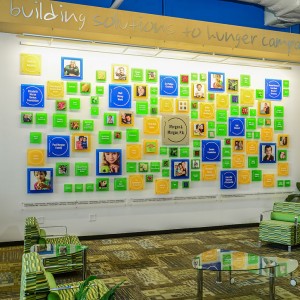 Client : Feeding America
Location : Orlando, FL
Industry : Corporate Office
Signage Solution : Interior, Exterior and Wayfinding Signage 
Description
For more than three decades, Second Harvest has collected and distributed donated food to 500+ non-profit partner agencies across six central Florida counties including Brevard, Lake, Orange, Osceola, Seminole and Volusia.
The Second Harvest Food Bank of Central Florida, a 100,000 sq.-ft. distribution center in Orlando, was built as a result of the "Building Solutions to Hunger" capital campaign. This campaign was initiated after more than 4 million pounds of perfectly good food was thrown away in 2012 alone, simply due to the lack of infrastructure and incapacity.
On March 1, 2013, the central Florida community was happy to see Second Harvest Food Bank open the doors to its new facility at the Morgan & Morgan, P.A. Hunger Relief Center located at 411 Mercy Drive in Orlando. The food bank can store up to 1.5 million pounds of product at one time and over the next 20 years, will provide 644 million pounds of food to local communities.
When Creative Sign Designs first consulted with Second Harvest Food Bank of Central Florida on the signage needs for its new home, they really wanted to recognize those who made their move possible.
Creative's design team engineered a colorful donor recognition wall that stretches nearly 25 feet in the building's lobby area. The campaign name, "Building Solutions to Hunger" is spelled out in brushed aluminum lettering across the top of the wall. The campaign's corporate sponsors are also recognized on 18 by 18 inch plaques in various rooms in the building.  This wall speaks of hope, a word that is used often around Second Harvest.
One of the most unique design elements of this sign package is the 42-inch tall acrylic letters that spell out "HOPE", which are filled with grains, fruits or vegetables – however not to the brim, signifying there is always a need for more.
Above "HOPE" is a very large graphic that from afar appears to be a photo of a young girl, however, as you move closer the photo is pixelated and made up of food.
The spoon, incorporated into Second Harvest logo, is found on all of the interior wayfinding and room identification signs, creating a unified, yet distinct atmosphere.  Large spoons also suspend from the lobby's high ceilings and are a focal point in the room.
As you walk through the building, you will find a series of quotation displays on the wall, all once again tying back to "hope" and the Second Harvest Food Bank of Central Florida mission. Additional quotes are found in a wall decal that is nearly 10 feet tall by 11 feet wide as you come in the front entrance.
The building's exterior wayfinding includes directional monument signs located on the main drive and the food bank entrance. The building exterior is identified by LED illuminated channel lettering on two sides of the building and laser cut-out acrylic lettering on a feature wall as you come in the entrance.
Additional miscellaneous signage includes window decals, interior reception lettering, and regulatory street signage.
Creative is proud to have been a part of this project and looks forward to the legacy this new facility and the great people at Second Harvest Food Bank will bring. Operating from the new Mercy Drive location since 2013, Second Harvest has the capacity to distribute 36 million pounds of food each year.