FINANCIAL INSTITUTIONS
Creative Sign Designs has extensive experience providing financial institution signage for clients ranging from multinational corporations to local, regional and national banks. In particular, Creative's expertise in bank signage includes: ADA signage, illuminated signage, digital display systems, office directory signs, wayfinding signage design and architectural signage. Creative's team has collective knowledge of bank signage that can address any need, large or small from start to finish. There is not a better solution provider than Creative that will consult on your financial institution's signage needs, design and fabricate a comprehensive package, and finally, complete the installation. Learn more about the completed projects within the financial industry below and contact us to get started on your project with Creative's team.
Creative's President and CEO, Jamie Harden, as well as other team members, have backgrounds in banking, which lends a wealth of knowledge to working within the industry. One notable partnership is with USAmeriBank, an independent bank that Creative has worked with since 2012.
When US AmeriBank needed to rebrand their locations throughout Alabama and Florida it was a natural choice for Creative to complete their turnkey sign package.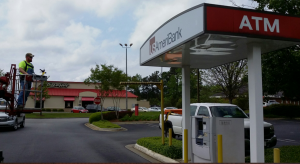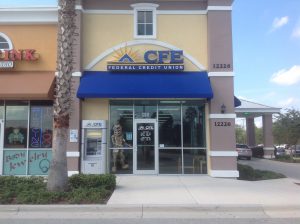 Creative's team once again relied on their collective financial industry knowledge when the Central Florida Educators (CFE) Federal Credit Union needed to complete a rebranding project. From a new logo design to updating all ATMs and branch locations, Creative provided guidance and a comprehensive solution.
The turnkey rebranding project was completed within a matter of months and reflects the credit union's updated and contemporary vision. The CFE Credit Union presents a unified look throughout all of their locations with an award-winning design that accurately reflects the brand.
Our Financial Office Partners Also Include: