Every sign within the interior of your business reflects your brand. From the welcome banner when visitors first walk inside to the sign pointing guests to the bathroom, interior signage contributes significantly to your company experience.
Interior signage can be creative and engaging, even if you just need room markers to label each office space. You can develop signage that matches your brand values and elevates your organization.
Learn more about your interior signage options and our abilities to make them happen.
What Kinds of Interior Signage Do You Need?
You might not realize it, but interior signs are all around you. You barely notice them when you walk through the grocery store or find your way in a theatre, but they are there to help. Our team works to help you create signs that can guide customers without confusion or concern.
At Creative Sign Design, we handle all kinds of commercial interior signage no matter how unique the creations are to your business. A few types of signage that we have include:
ADA Signage
Custom Graphics
Directional Signs
Digital Message Centers
Electronic Message Units (EMUs)
Flat Cut Out Letters
Halo Lit Channel Letters
Manual Readerboards
Multi-Tenant Signs
Pin Mounted, Non-Illuminated
Push-Thru Lettering
Wall Signs
Many of our interior signage orders include a variety of different signs, from directional signs guiding visitors to wall signs with important information. Each sign comes with its own content requirements and guidelines for creation.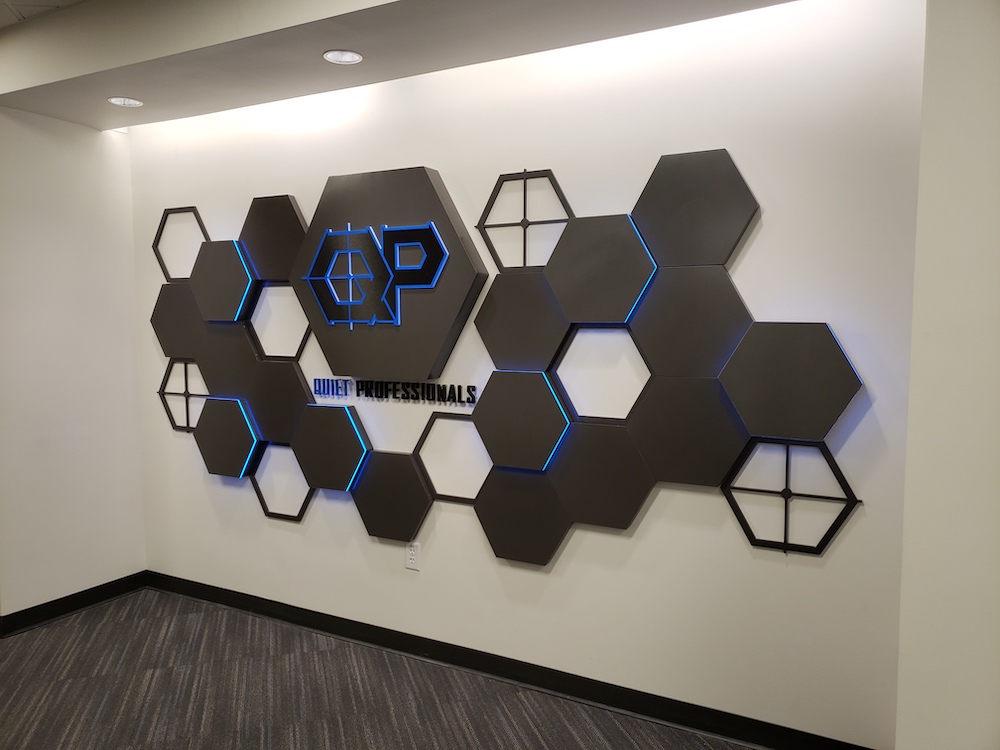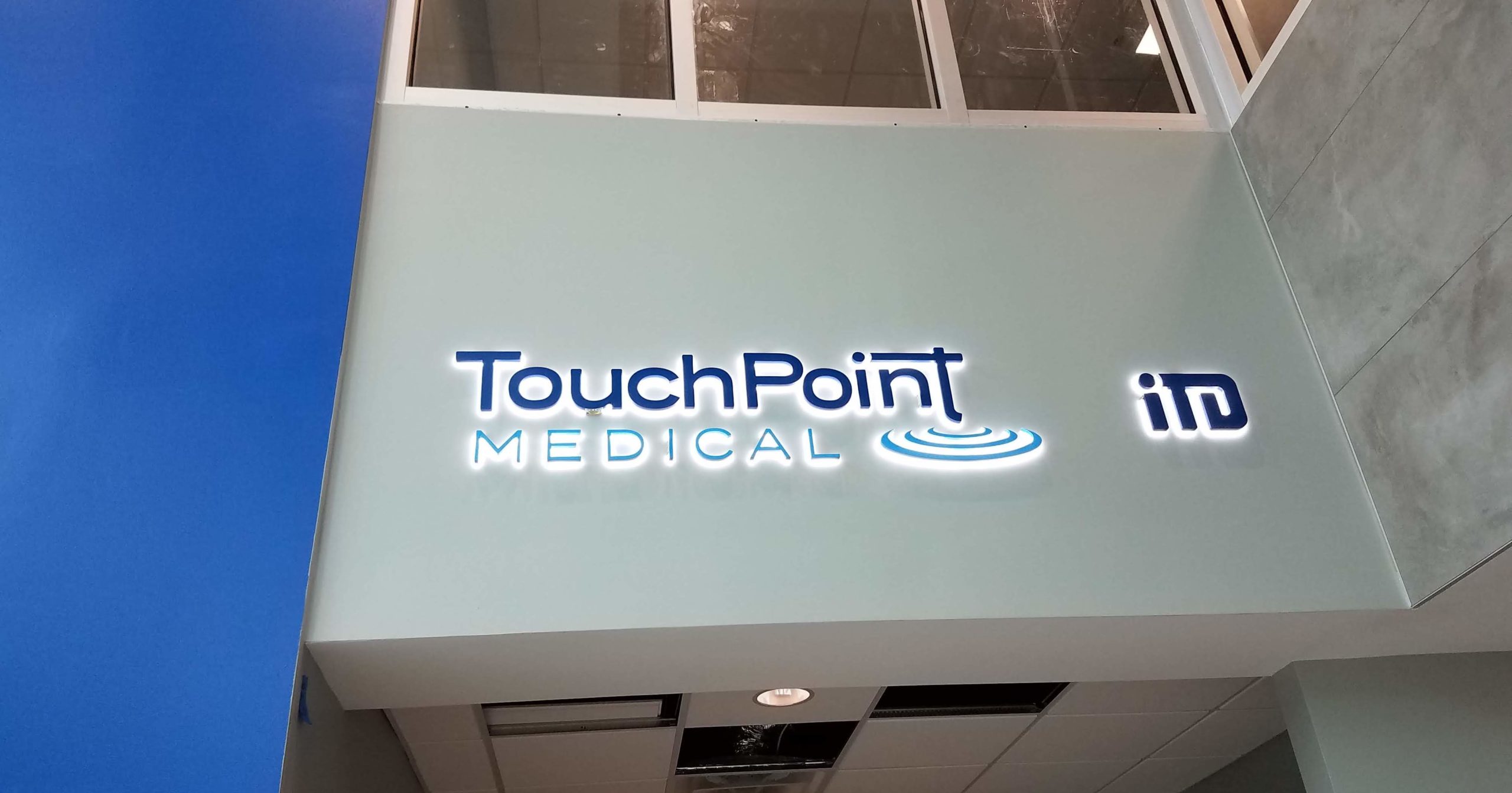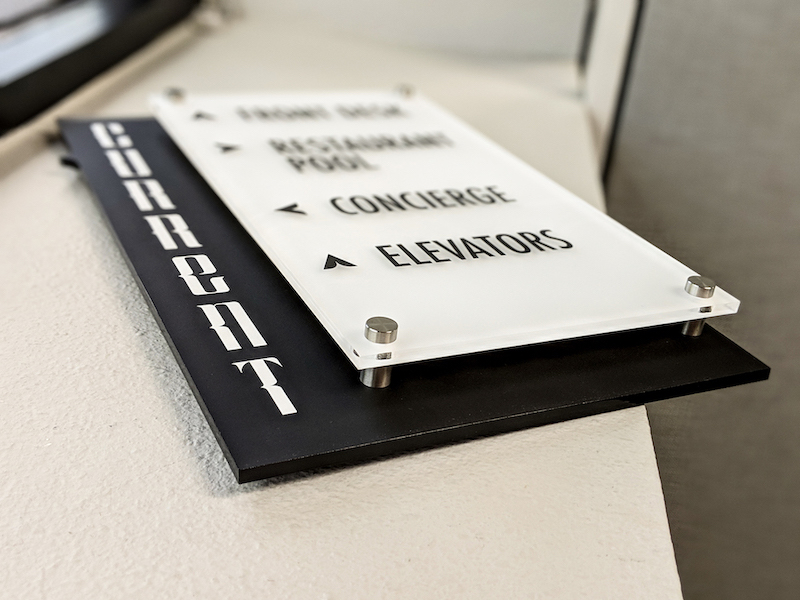 Commercial Interior Signage Options
One of the great benefits of commercial building signage is its flexibility. You can enjoy many of the same creative benefits as your exterior signage but don't have to contend with the sun, wind, rain, and other elements. You can get creative with the materials, color schemes, and design elements that you choose. Here are a few common design styles and sign materials we work with and can apply to your interior design vision.
Faux finishing
Color matching
Powder coating
Computerized vinyl, screen printing, and digital graphics
Large format UV printing
Sandblasting
Welding
Computerized waterjet fabrication
Channel lettering
Laser engraving
With these assembly options, you can create interior signages that look like wood, metal, plastic, neon, and almost any other material you can think of. We also offer lighting options to illuminate your interior spaces with your signs.
You will also likely use a variety of these depending on your signage project. Large-scale hero signs will need more complex materials while room markers will just need simple plaques with durable materials. However, each sign will tie back to your brand goals and your customer needs.
ADA-Centric
Your building needs to be ADA compliant, but we believe in taking this a step further. Each of our signage projects is developed with an accessible eye. We want to guide the largest number of people and create the fewest number of problems. We develop signs that use Braille and are meant to be placed where wheelchair users can see them. Our team also works to ensure the lettering is large enough and the colors contrast for easy reading.
Everyone is welcome in your business and our signage can make your campus a more comfortable place for people from all walks of life.
Simplify Your Project With a Signage Package
When you work with Creative Sign Designs, we can put together a sign system that will be applied to your whole project, allowing you to focus on other aspects of the construction process. With our package plans, you can rest assured that your signs will be ready on time and on budget.
Our Clarity Interior Signage Program was developed for your convenience. By standardizing and streamlining the customization of design, materials, and pricing, our clients can avoid the long lead times a custom design with specialty materials may entail.
With a signage package, our clients can go to market faster with the simplicity of a sign system – without sacrificing customization – by reducing the turnaround times for the interior signage on their projects by up to 50%, saving them both time and money.
Consider this option as you look to scale your signage efforts to wow your customers.
Featured Interior Signage Projects
Sarasota Memorial Hospital
Sarasota Memorial Hospital is an 839-bed regional medical center with more than 5,000 staff including 900 physicians and 600 volunteers. We recently worked to improve their interior signage and parking garage wayfinding. This was a large-scale project that included ADA capabilities. The result is a better navigating experience for patients, volunteers, and staff.
Entertainment Benefits Group
Our team partnered with Entertainment Benefits Group to create their interior and exterior signage. For the interior displays, we created full-wall signs that highlighted the core values of the team. These signs motivate employees daily, contribute to the overall decor, and assure customers that the organization provides quality services.