The Americans with Disabilities Act (ADA) was the most comprehensive piece of legislation ever passed that supported people with disabilities. Through the years, the legislatures have continued to make amendments to the ADA and clarify what is expected of businesses. While this is a well-meaning law, it often leaves business owners confused about what needs to be done in order to stay ADA compliant.
The good news is, you can create an accessible business without sacrificing your brand vision or turning your signage projects into a massive undertaking. Learn how our team at Creative Sign Designs can help you stay ADA compliant.
The Importance of ADA Signage
The ADA covers multiple types of disability. It includes people who are blind or vision-impaired, deaf or hard of hearing, people who use assistance tools like wheelchairs and walkers, and people with invisible disabilities. Just because someone doesn't have a hearing aid or a cane doesn't mean they don't have a disability and don't use assistance tools to navigate the world.
When your business is built with accessibility in mind, you create a welcoming environment for everyone who walks through your doors. Customers who use wheelchairs don't feel like they need your help to get around and customers who are deaf can still find where they need to go.
ADA signage accommodates all disabilities and the resources that people use to help with them. People with disabilities use a variety of tools to better navigate the world. For example, only 10 percent of Americans who are blind know Braille. While adding Braille text to your signage is invaluable for the people who use it, it isn't the main source of wayfinding for many people who are blind.
Additionally, ADA signage can help people without disabilities as well. It's easy to get lost or overwhelmed in a new place, which means your signage can make people more comfortable. Whether you are operating a high-end resort or rebranding your corporate offices, you can improve your compliance by focusing on ADA needs.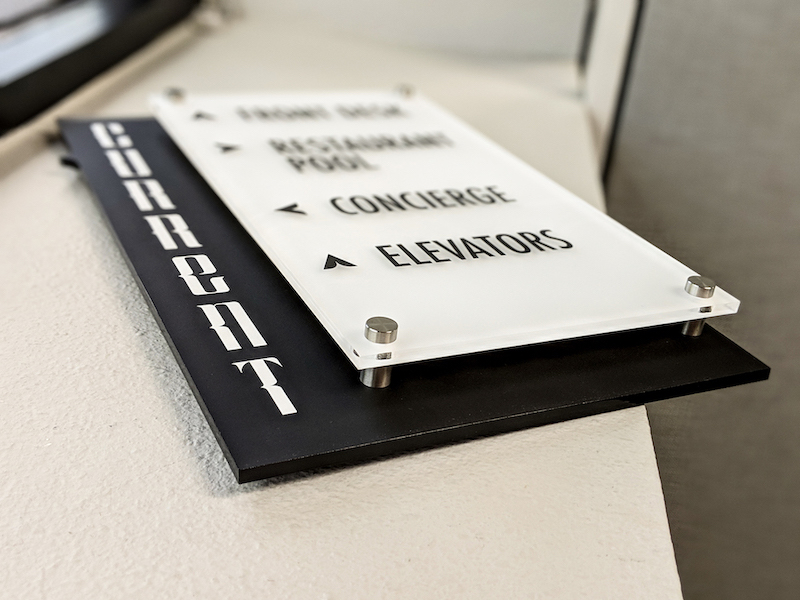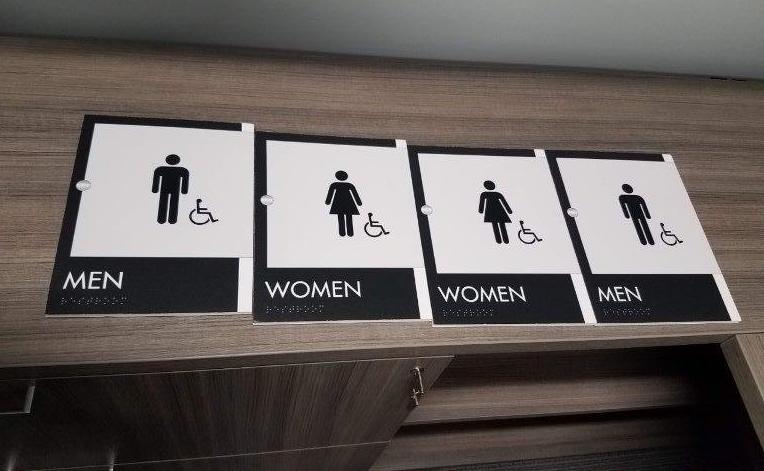 ADA Signage Planning & Programming
The first myth to bust when developing ADA signage is that your accessibility goals will differ from your design principles. Your signage – regardless of whether you are developing it for accessibility or branding – should clearly convey information to your customers. It should be easy to read and prominent enough that anyone can see it. Many of the other ADA recommendations follow these design best practices:
Signs should have contrasting colors so the text or symbols are easy to understand.
Designers should avoid reflective surfaces that will create a glare on the sign.
Font sizes should be large enough (and the text should be spaced out enough) to be read easily.
There should be signs outside of each room that label what is inside.
Wall signs should be placed between 48-60 inches off the ground.
Another main factor that ADA developers look for is consistency. When each placard is placed in the same spot as various rooms are labeled, your customers can easily figure out where they are going. This helps people with disabilities while also providing reliable wayfinding for all of your employees and customers.
ADA Signage Design
Another myth related to ADA signage is that your color choices are limited. Oftentimes, business owners get so focused on the technicalities of sign design that they don't realize how much creativity is at their disposal.
It's possible to create ADA-compliant signage without sacrificing your brand identity. In fact, when you hire our Environmental Graphic Design Studio to create your signage, we will focus on your branding first and then make sure the colors and materials you choose align with ADA rules.
Additionally, utilizing our Clarity Interior Sign Program can be a great place to start when you are looking to streamline the ADA signage process and materials for your project. This program has been developed to speed up the entire ADA signage process-from design/estimating to production/installation.
ADA Signage Fabrication & Installation
Too often, our clients have spent hours trying to navigate various ADA guidelines to understand their signage needs. They track the updates and want to do everything they can to stay compliant. However, if you aren't already familiar with these rules, it's easy to get overwhelmed or confused.
Don't spend days trying to learn what the ADA needs you to do. Instead, turn to a company that specializes in ADA-compliant signage.
At Creative Sign Designs, we develop ADA signage for enterprise-level corporations with dozens of floors, departments, and offices. Our team can handle compliance guidelines from large, entryway signs down to minute wayfinding placards on the wall. Whether you have five employees or 5,000, our team can keep your business ADA complaint – at least when it comes to signage.