Wayfinding Design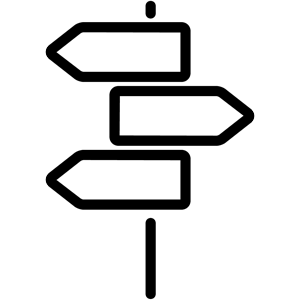 Wayfinding is a comprehensive process developed to familiarize people in a physical space and provide directional assistance to get from point A to point B. Messages presented on interior and exterior wayfinding signage minimize a visitor's natural confusion when navigating a new and unfamiliar facility. A central component of wayfinding design is signage. Wayfinding design and signage systems work together to create a comfortable environment for visitors. Clear and legible messages must be in the right location and visible to all – regardless of language or physical ability.
Keeping up-to-date with the Americans with Disabilities Act Accessibility Guidelines (ADAAG) and local accessibility regulations is vital to crafting successful and compliant wayfinding signage design systems. The Creative team of experienced wayfinding consultants follow any changes and provide ADAAG-related training to continually educate all clients. Creative's wayfinding consultants strive to effectively communicate clients' individual needs, assure a comprehensive and cost-effective wayfinding signage solution, and successfully determine the ideal solution for each environment. The team of account executives, award-winning designers and project managers are experts in wayfinding signage design and help clients across the country create effective interior and exterior sign programs.
Wayfinding Sign Systems
Creating a wayfinding system, a themed environment, or comprehensive branded experience is not the same level of complexity as designing a menu or an annual report. Design considerations include far more than the norm in graphic design practice. Environmental Graphic Design requires specific attention to sightlines, traffic patterns, human behavior, usability issues, accessibility, landscape considerations, engineering, manufacturing, materials, and even weather. These considerations are vital to both indoor and outdoor wayfinding systems.
Our Wayfinding and Environmental Graphic Design Studio has the following abilities to leverage your brand and space to another level of importance, impact, and emotion:
Themed Environments
Experience Design
Strategic Curation of Spaces
Public Art Creation
Interpretive Graphic Development
Infographics
The result of a wayfinding signage design includes:
Detailed Messsage Schedule
Sign Type Hierarchy
Terminology Consistency Review
OSHA, ADA & Fire Compliance Review
Permitting & Code Analysis
Sign Location Plan
Sign Size, Style & Color Review
Sign Installation & Maintenance Plan