Signage For Apartments & Condos
Multifamily units offer some of the most diverse opportunities for signage and wayfinding. In packed cities, bright LED lights and modern designs can attract potential residents to your building, making your apartments some of the most in-demand units in the city. In suburban areas with a little more space, monument signs and environmental branding can create a community experience and make people feel at home.
For the past 25 years, our team at Creative Sign Designs has worked with property managers and developers who want to create outstanding multifamily homes in their areas. From innovative apartment buildings to sprawling properties, we have added the right signs, wayfinding markers, and other elements to make a living space stand out.
If you want to operate the most on-trend condo in your area, let us help you. We can improve your multifamily signage to benefit your residents, guests, and staff.
Key Features of Multifamily Signage
Each apartment complex is unique, which means it needs specific signage to guide residents and help their guides navigate. These signs also serve marketing purposes, attracting people who want to tour the units and potentially sign a lease. At Creative Sign Designs, we can take care of every aspect of signage in your apartment complex or condo, no matter how big or small your property is. A few of our key signage features include:
Monument and landmark signage to stand out
LED-lit signage for attracting residents and guests
Interior signage systems
Directional signage and wayfinding
Signage in parking lots and garages
ADA compliant signage across your campus
Freestanding pole signs and maps
When you work with our team, we can map out all of your signage needs. This ranges from directions to the community pool to important guidelines in the complex parking garage.
Monument & Landmark Signage
Monument and landmark signage can help attract people to your apartment complex or condo building. Landmark signage can be seen clearly and is easily recognized across town. Monument signage is often used at the front of multifamily properties and is close to the ground. Whatever style you prefer to promote your multifamily units, we can easily design and execute. Our signage features include:
LED retrofit and branded lighting
Faux finishes for more affordable signage
Bold channel lettering
Signage for awnings and canopies
You have an opportunity to get creative with your branding through your landmark signage. Let us design something unique to your area that really stands out.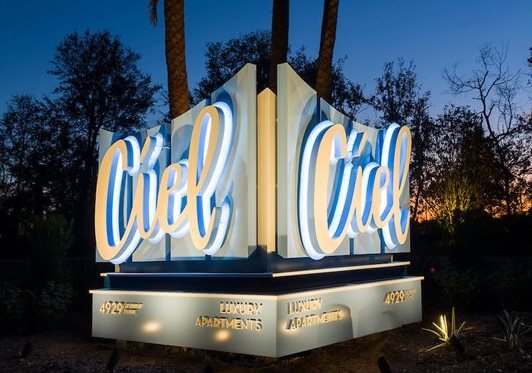 Multifamily Complex Wayfinding
A multifamily unit with several buildings can be difficult to navigate – especially for potential residents who don't know where they are going. With our wayfinding solutions, you can guide residents to different buildings, help people find amenities like the pool and clubhouse, and keep everyone safe with clear parking lot or parking garage signage. This creates a better experience for everyone involved. A few of our wayfinding features include:
Themed environments
Public art creation
Knowledge of permitting and codes
ADA compliance
Prevent visitors (and hospital staff) from getting lost. Talk to our team about implementing wayfinding signage that guides visitors from the minute they walk through the front door.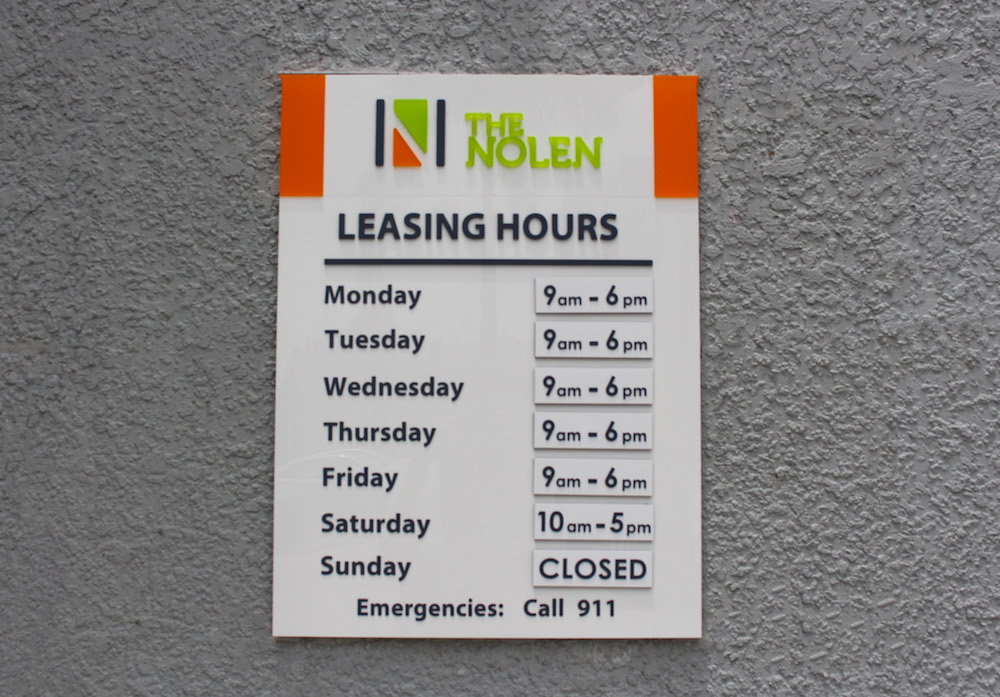 Interior Multifamily Signage
Even within multifamily buildings, residents and guests can get lost trying to find the right unit. This can become frustrating not only for the people who live there but also for delivery professionals and service providers who can't find their customers. Our team can work to create clear interior wayfinding and unit signage so each resident can be found easily. These features include:
Unit signage and nameplates
Wayfinding for specific building and unit numbers
Pole-mounted maps for large campuses
Improved signage can have a positive impact on your residents while helping guests and service providers who visit your complex.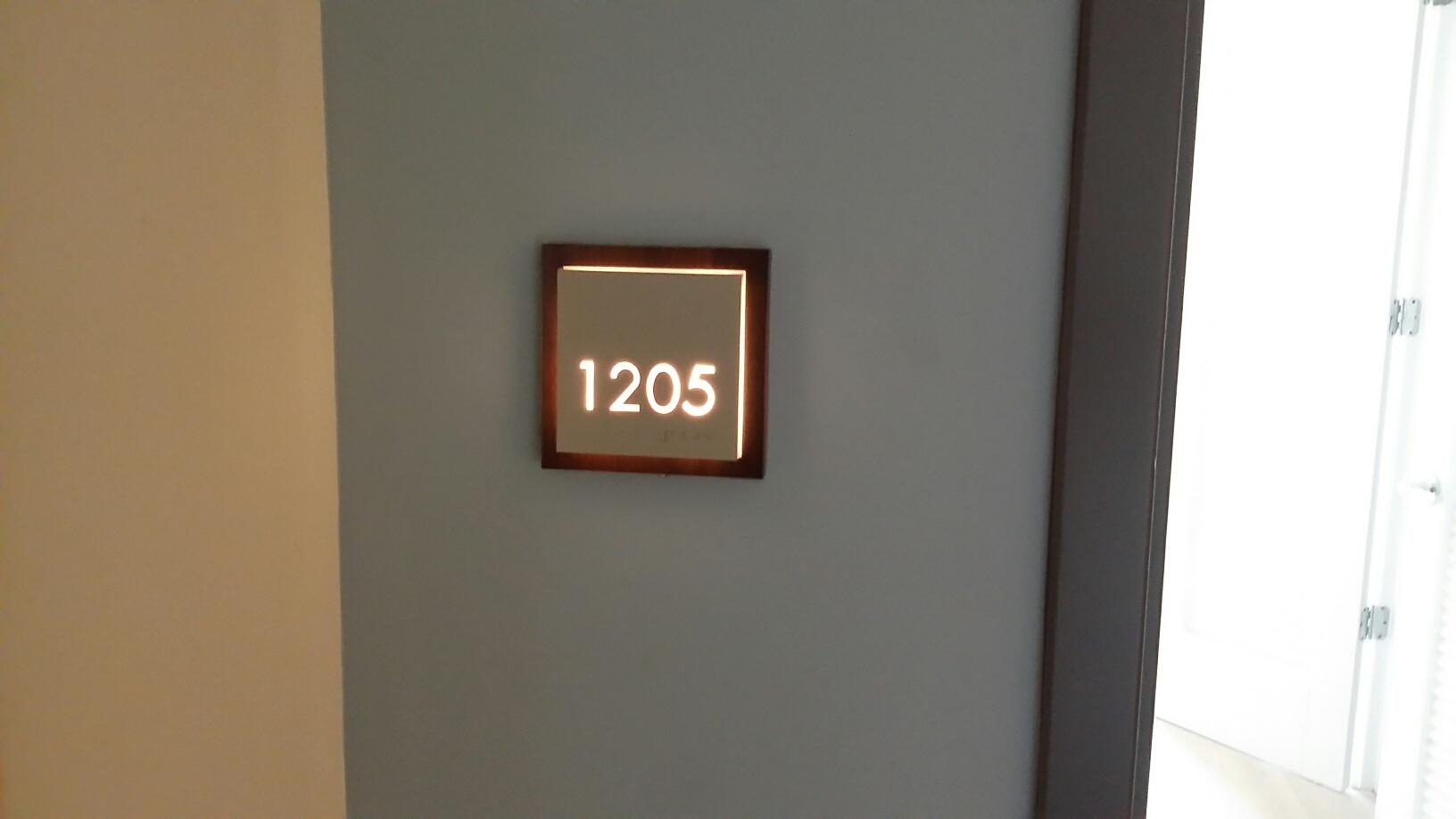 Any multifamily unit has different areas, amenities, parking requirements, and wayfinding needs. This means you need a dedicated plan to make sure each sign is on-brand, on-trend and ADA compliant. Don't drag out this project by focusing on only one aspect of your signage at a time. Work with a team that can handle every aspect of your signage and wayfinding needs for a full roll-out
Multifamily Signage Featured Projects
In a collaborative approach, Valor chose Creative Sign Designs as their trusted partner for the comprehensive design, fabrication, and installation of the signage program for the prestigious Serena by the Sea project in Clearwater. The scope of this endeavor encompasses top-tier interior signage as well as an impressive exterior monument. View full project and photos.
Creative partnered with The NRP Group as their signage consultant on this multi-family new construction development in Lutz, FL. View full project and photos.
NOVEL Midtown is a high-end multifamily development with a focus on resident experience and a flair for interior design. Creative is pleased to have partnered with the Crescent Communities team on this wonderful addition to the midtown development in Tampa. View full project and photos.
In collaboration with Strategic Property Partners (SPP), Creative Sign Designs was contracted to consult, fabricate, and install the exterior, interior, and wayfinding signage for their new high-rise condo in Tampa, FL. View full project and photos.
In collaboration with WRH Realty, Creative Sign Designs was contracted to consult, design, fabricate, and install custom architectural signage for Ciel multifamily property in Jacksonville, FL. View full project and photos.
Cornerstone has developed its first of many branded multifamily residences showcasing the use of "smart" technology with Urbon in Orlando, FL. Through phone applications, the resident will be able to control locks, alarms, lighting, and much more. View project and photos.
Creative partnered with Robinson Creative for this project. The scope included 3 illuminated blade signs, reverse illuminated channel letters, and flat cut out letters for this multifamily community utilizing sustainable materials.
Debartolo Development based out of Tampa, FL partners again with Creative Sign Designs for a full turnkey signage solution for Cobalt Lofts, a multifamily project in the expanding community of Harrison, New Jersey known as "The Riverbend District."
500 Harbour Island is leading the transformation and vision in architecture for multi-family. For this project, we transformed a typical parking garage into captivating artwork utilizing 45' x 14.5' digitally printed mesh banners that aesthetically change how you view parking garages.
Creative executed the designs, fabrication, and installation for this 366 unit multifamily building including 3 exterior illuminated signs, a full interior package for the 9-floor building and an interior parking garage.
The Nolen at Prospect Park is a property situated in the vibrant, urban neighborhood of downtown Clearwater. Creative was contracted by Incore Residental to complete a comprehensive site plan analysis in order to recommend and create signage for this apartment complex.
More of our Multifamily Building Partners Include: