Since their inception, amusement parks have captured the hearts and lifelong memories of their guests in a way very few other recreational experiences can – and the reason is simple: They create an engaging and immersive experience that makes each and every guest feel like they are a part of something magical. Every amusement park is unique and as such, their signage should reflect that individuality while concurrently creating a lasting impression that improves every guest's experience.
At Creative Sign Designs, we have over three decades of experience as a nationally recognized leader in custom signage and wayfinding and have the knowledge and skills necessary to develop comprehensive signage for amusement and theme parks of any size to give your guests the most memorable experience. We recognize the importance of maintaining consistent branding throughout your entire property with a customized blend of specific design elements, creativity, and functionality while also providing your guests with the information they need.
How Signage Shapes The Guest Experience
From the moment your guests enter your park, impressions are made. And custom, branded signage help form that impression.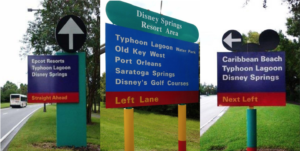 Because once guests are inside the park, they're faced with many choices. From knowing where they are going, to knowing when they've arrived, to knowing what to expect from their experience, every option can be highlighted with custom theme park signage. Some programming considerations for theme parks include:
Roadway signs
Entrance and exit signs
Ticketing booths and kiosks signage
Wayfinding and facility maps
ADA/Compliance and safety signs
Rides and attractions
Concession and vendors
At Creative Sign Designs, our team is ready to help enhance your guests' user experience – from entrance to exit and every opportunity in between – so they can be free to focus on what matters most: having fun.