We are a mobile society. Vehicle travel is a given, however, millions of people utilize airports, bus terminals, and train stations to help them get places. As stressful as travel can be, offering passengers an intuitive method to find their way through these spaces is a critical step toward safeguarding a positive customer experience. Effective wayfinding is essential, however, signage in these settings should also be used to contribute to the overall feel and brand of the facility. A proper signage package will help passengers make connections not only to their destination but to the architectural environment of the venue.
Airport & Transportation Hub Signage & Wayfinding
Consider that customers have choices in how they travel. Stress-free navigation throughout the travel process greatly improves the customers' experience. From the moment the traveler parks their vehicle or is dropped at departures, through pointing them to the proper gate, guiding them through a connection, and finally through the arrival process, signage is paramount to an efficient and successful path.
At a minimum, an effective signage program must ensure the proper messages, in the correct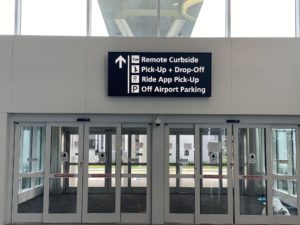 places, displayed clearly and visibly. A true signage partner will understand the desired essence of the environment and propose signage that will be cohesive with or even enhance the feel of the space. Some programming considerations for transportation hubs:
Roadway signs
Parking garages
Departure areas
Arrival areas
Terminals
Concourses
ADA/Compliance and safety signs
Concession and vendors
At CSD, we are a nationally recognized leader in custom signage and wayfinding. We have the knowledge and skills necessary to develop a comprehensive signage program for transportation hubs of any size to give customers the best passenger journey experience. Contact us today to discuss your needs!