Fabrication

Creative Sign Designs has tremendous in-house capabilities for complete signage fabrication. Creative's sign fabricators are experienced in producing practically any type of sign products imaginable. From custom, one-of-a-kind signs to large-scale sign installation projects for local, regional and national clients.
The modern, state-of-the-art signage fabrication facility houses the latest in computerized design and manufacturing equipment and is staffed with a team of sign fabricators committed to consistently delivering innovation, quality and service to be expected from the leader in the signage industry.
Sign Fabrication Equipment includes:
Computerized Vinyl, Screen Printing & Digital Graphics – Including a Large Format UV Flatbed Printer
Shears, Benders, and numerous Welding Stations
UL – Certified Sign Lighting and Wiring
Sandblasting
Computerized Waterjet Machine
Two Paint Booths
Computerized Channel Letter Machine
Two Laser Engravers
We offer a comprehensive range of painting and metal finishing:
Single stage polyurethane painting
Base coat / clear coat painting
Powder coating
Faux finishing
Color matching laboratory
Polishing, anodizing, and galvanizing
Though standard and pre-engineered sign systems are offered, Creative has the ability to manufacture practically anything a designer can dream up. Whether the project requires signage to stand off of a wall or to float from the ceiling, Creative's team of sign fabricators can produce architectural signage tailored to the most custom project's needs. No matter how custom the product may be, the sophisticated sign fabrication techniques ensure a final product the client will be proud of.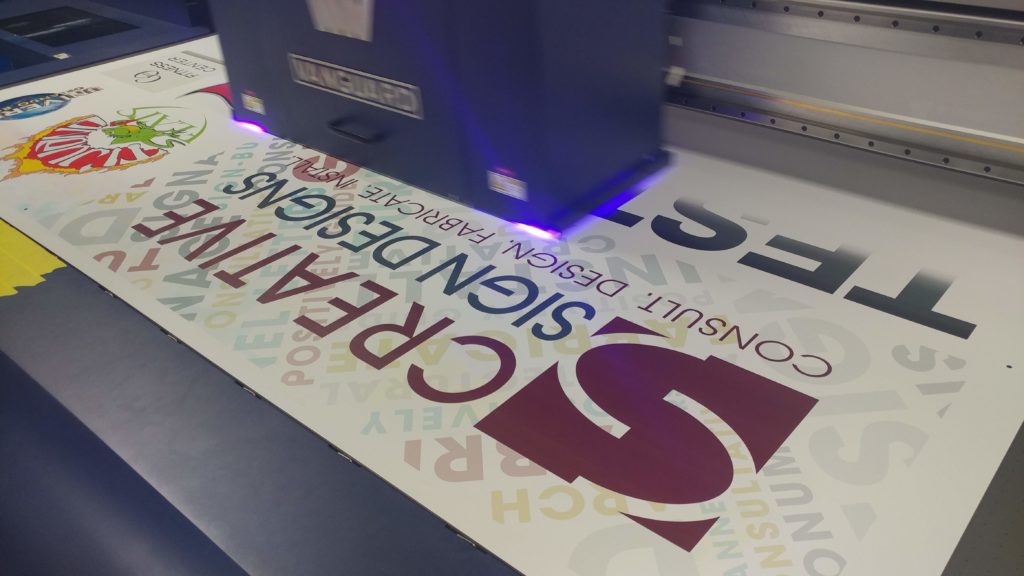 Installation
In the process of developing signage installation solutions, Creative Sign Designs considers each stakeholder involved in the process- the designer, the client, the patient, the visitor, etc.
To ensure the best possible client experience, it is crucial to analyze engineering and code requirements, fabrication staging and sign installation logistics. The best design, planning, and signage products have limited value if not properly installed. The sign-installation team ensures that your signage is installed correctly and in compliance with all local, state and ADA requirements while following all OSHA Safety Regulations for Construction.
As a full-service sign-installation company, all Creative interior and exterior signage products are installed by trained personnel. Regardless of the size of a sign or the complexity of the sign installation, Creative is a complete turnkey sign-installation company that saves time and protects client investments for many years to come.
Creative Sign Designs offers a full range of signage installation services, including:
Site surveys and analysis
Local code compliance and analysis
Client representation before government agencies (e.g. variances)
Utility checks
Creative Sign Designs sign installation equipment includes:
Bucket Trucks
Crane Trucks
Pickup Trucks
Vans
Trailers