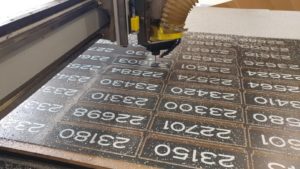 As technology advances and revolutionizes everything, the signage industry, is no exception. And one such advancement is computer numeric control (CNC) machining with camera-vision finishing.
Granted, it reads like a techie word salad but trust us when we say this process is a game-changer. Read on to learn more about a printing process revolutionizing the signage industry.
What Is A CNC Machine?
Simply put, a CNC machine provides a streamlined process for print and cutting applications which also boasts the ability for router and laser cutters to use photovision and registration point recognition to print and cut full sheets of nested objects.
More specifically, a CNC machine utilizes computer numerical control over tools like lathes, routers, grinders or mills by using specialized software that enables precise control of coordination, feed rate, location, speed and more.
For the signage industry, this means that for signs that require large amounts of metal and plastic parts, often in complex shapes, this machine's multiple axes can adjust to difficult angles and help manage hard-to-cut materials.
CNC vs. Conventional Machining
While both CNC machining and conventional machining start with a raw piece of metal or plastic, that's where the similarities end.
One of the most distinct differences between the two machines is that a CNC machine is automated, whereas a conventional machine is manual. As such, CNC machines boast increased speed, production rates, and accuracy.
Advantages of a CNC Machine
Efficient.
Outfitting finishing equipment, like CNC routers and CNC lasers with camera vision technology, allow for increased efficiency in the workflow process from the UV direct flatbed printed materials.
Accurate.
CNC routers and lasers have been equipped with the necessary technology to enable them to locate the printed registration points on the material, practically eliminating human error with accuracy within 1/1000th.
Scalable.
Once the design parameters and specifications have been entered into a CNC machine, it can execute large quantities and affords flexible scalability with full nesting of the materials.
Automated.
CNC machines are autonomous and only require one skilled operator to run several at a time.
Consistency.
CNC machine outputs are consistent, matching exactly to the prototype's exact specifications every time.
Affordable.
A CNC machine's speed, efficiency, automation, and accuracy make it a much more affordable signage printing option. Less time and labor means less cost passed on to customers.
Versatile.
CNC machining is virtually limitless so if you can dream or design it, the CNC machine can make it a reality.
If you're ready to design and print custom, branded signage limited only by your imagination, contact Creative Sign Designs today!