The Creative Sign Designs team celebrated its 30th anniversary last month with an open house, facility tours and cocktail reception at its headquarters in Tampa, FL. The celebration attracted more than 300 guests including the Mayor of Tampa Bob Buckhorn and garnered congratulations from Congressman Gus M. Bilirakis.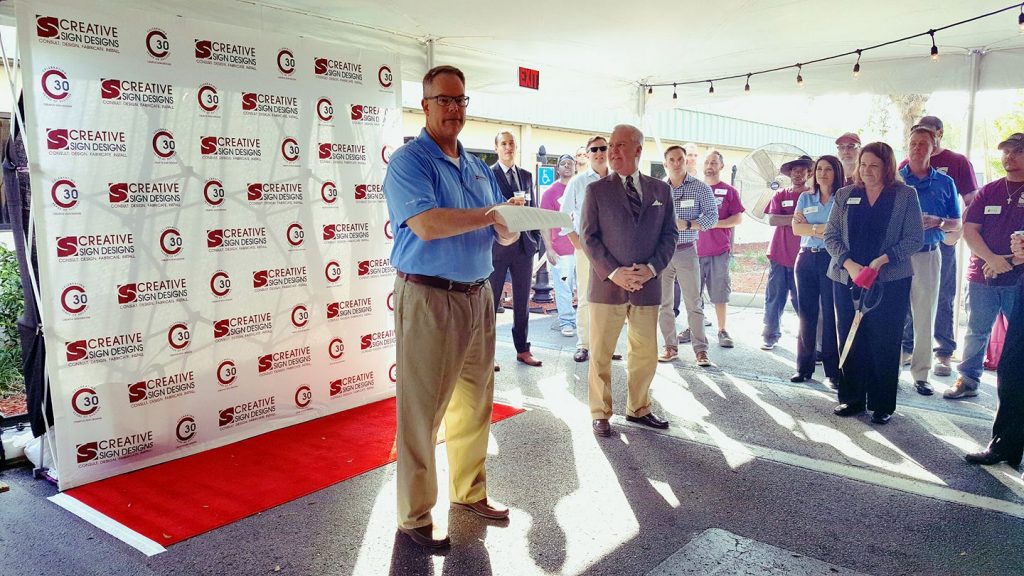 This was the Mayor's first time at the Creative headquarters and left with his very own, customized street sign.
"It is because of initiatives that Mayor Buckhorn has worked for while in office that Creative has been afforded the opportunity to help Tampa grow," said President & CEO of Creative Jamie Harden. "The projects we've been involved with as part of the Mayor's vision, Glazer Children's Museum, the Tampa Riverwalk, Curtis Hixon Park and many more, are a significant reason why we are here today."
Additionally, a representative from the Congressman Gus M. Bilirakis' office was in attendance to deliver congratulations personally. "There is no question; manufacturing industries are vital to the American economy and job market," said Bilirakis. "As a nationally recognized leader in the custom interior and exterior signage, your company has certainly made significant contributions to the growth and sustainability of our local and state economy, over the past 30 years."
As delicious hors d'oeuvres were passed and champagne was popped, Jamie and the leadership team congratulated the employees who have helped shape Creative and announced a redirection for the company's future growth.
"This anniversary is a true testament to the continued support of our clients, employees, suppliers, partners and leaders of the Tampa community," said Harden. "Just as it has taken many changes and growth opportunities to make it 30 years, the changes continue with the sale of the mailbox portion of our business earlier this year. This was not a decision we made lightly since that is the company we originally bought and it provided the opportunity to break in to the signage business but the time was right and mutually beneficial."
2016 has been the year of big changes for Creative. Until earlier this year Creative Sign Designs and Creative Mailbox Designs operated as subsidiaries of Creative Mailbox Designs, LLC. With both branches of Creative experiencing such rapid growth, it was an optimal time to split and focus on the development of each company individually. CMD was sold to Scott Tappan, entrepreneur and investor, and will continue to provide solutions for general mail delivery, as well as, amenities such as package handling, bike rooms, dog parks and streetscape items.
We can't wait to see where the next 30 years will take us.