When it comes to types of outdoor signage for businesses there are numerous options available. In our Sign Basics series, we will explain three types of building signs: non-illuminated exterior, illuminated exterior and interior. Read on to learn how your business, school, health facility and living community can utilize non-illuminated exterior signage to make a good first impression anyone even walks through the door.
Types of Non-Illuminated Exterior Customs Signs
Custom signs will make your store front stand out from competing signage or landscaping. The following types of outdoor signage are non-illuminated options that make a big statement.

Blade signs 
These types of building signs project from walls, pillars or store fronts via a pole, typically hanging perpendicular to the flow of traffic. They are most common in urban areas with limited space and in outdoor malls that make use of pedestrian walkways.
---

Channel Letter Signs
These business signs are also referred to as dimensional lettering signs. Channel letter signs are made up of individual 3D letters and logos, and are usually installed directly above a main entrance. This type of business sign is most common for retail locations and is used almost exclusively in most strip malls.
---
Post and Panel Signs
Best for open areas, this type of outdoor signage is most often used for location identification and wayfinding. It is installed on poles and may also be called directional or freestanding signs.
---
Monument Signs
Monument signage is large and permanent. These custom signs are anchored into the ground with columns hidden by decorative masonry or an aluminum skirt. This type of outdoor signage is meant to be viewed at eye-level and is typically used as the main identification or entryway sign.
---
Awnings and Canopies
Constructed out of non-rigid materials, these types of building signs are mounted on a supporting structure that is attached to an exterior wall.
---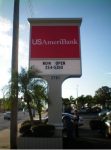 Manual Reader Boards
These classic business signs utilize vinyl letters on a track system that are manually switched out.
---
Design & Material Options for Non-Illuminated Exterior Signage
When it comes to selecting a custom sign, the following optional are also available:
Plastic materials include acrylic, painted PVC and vinyl.
Metals options include rust-and rot-resistant aluminum, brass, bronze and copper.
Other types of signage material include letter foam, rock, brick and stone.
Sign faces can have either three dimensional or cabinet lettering.
You can utilize standoffs or not.
All non-illuminated exterior signs from Creative Sign Designs are made from high-quality materials that resist fading and can stand up to all environmental elements. Contact us today to start designing your custom business signs.