Whether you're developing a corporate office building, hotel or other space, commercial buildings require interior signage with attention paid to every detail.
From creative wayfinding, to statement pieces, to room numbers, to ADA/Code Compliant signage, it's important to design architectural interior signs and graphics– that satisfy both form and function – early on to align with the project as a whole.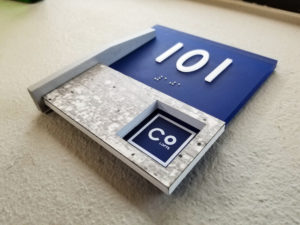 As such, managing the implementation of a brand for interior signage requires an in-depth understanding of various factors, such as the number of signs, types of materials, brand goals and guidelines, and client expectations. With an experienced signage partner and a design-build approach, however, there is a seamless transition from the academic design process to the performance of fabrication and installation for interior commercial signage.
Interior Signage Considerations
Needs Assessment
The needs assessment establishes the general scope of the project, budget, and its 'Big Idea' in order to effectively determine the project's needs and successfully determine the ideal signage solution. To assure a comprehensive and cost-effective solution, this phase will also uncover any possible risks and prospective solutions. Surveys and electrical requirements, for example, are useful in determining feasibility and placement for certain graphics and signage.
Additionally, this stage develops, identifies and realizes a signage program by providing solutions that meet ADA and code regulations, resolves wayfinding and visitor directional challenges, communicates brand identity, addresses documentation needs, and realizes on-site product installation.
Wayfinding Design & Complex Graphics
It's important to have clear brand guidelines or design concepts completed to ensure signage and wayfinding are aligned with the overall look and feel of the brand and space. If you are a hotel, for example, guest experience is important and should not be neglected in the sign design process. If you are a corporate headquarters, you may want to explore complex graphics to complement the overall brand and signage.
Creating a wayfinding system, a themed environment, or comprehensive branded experience requires design considerations and specific attention to sightlines, traffic patterns, human behavior, usability issues, accessibility, guest experience, manufacturing, materials, and more. Additionally, staying compliant with the Americans with Disabilities Act Accessibility Guidelines (ADAAG) and local fire and accessibility regulations is critical to crafting successful and compliant interior commercial wayfinding signage.
Fabrication & Installation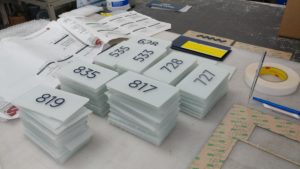 From custom, one-of-a-kind architectural interior signs to large-scale sign and graphics fabrication and installation can be narrowly tailored to a project's specific brand, needs and aesthetics with computerized design and manufacturing. Consider a wide array of fabrication equipment and a comprehensive range of painting and metal finishing for a tailored look and feel.
The best design, planning, and signage products have limited value if not properly installed. A good sign-installation team ensures signage is installed correctly, safely, and in compliance with all local, state and ADA requirements while following all OSHA Safety Regulations for Construction.
Project Management
Instead of managing the signage project directly, a designated project manager can oversee all aspects of the project so you don't have to worry about timelines and budgets. From design appropriation, to managing the manufacturing process, to supervising on-site installations in order to guarantee the finished projects surpass expectations.
Proper project management of an architectural interior signage project ensures that every portion of the sign programming process is carefully considered and that expenses stay within budget throughout the project to meet project requirements.
In addition to interior signage, there are exterior signage considerations which can be more complex. If you are a commercial developer, get in touch with Creative to learn more about how our professional experience is steeped in a streamlined delivery model that reduces time and energy for a successful commercial sign project.