Hospitals and other healthcare facilities face incredibly unique challenges – and opportunities – when it comes to signage. One of the most difficult challenges of healthcare wayfinding design is imagining how new visitors to a health care facility will respond and interpret your signage.
And in healthcare environments, signage is particularly critical due to the nature of the population: Patients who are ill or injured, under stress, and generally unfamiliar with hospitals or clinics are at a disadvantage when trying to find their way, as are the visitors who come to see them.

Wayfinding in Healthcare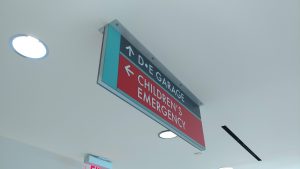 So clear and concise exterior and interior wayfinding signage provides crucial navigation, and color-coded, highly visible and strategically placed directional and identification signage can greatly reduce travel time and confusion when time is of the essence.Signage can be more complex in a medical environment not only due to visitors needing signage for information and directions, but there are also regulatory requirements that must be fulfilled.
Programming Hospital Signage
Which is why having a signage plan – also known as programming – is so important. Programming maps out the steps to installing the most effective signage, from budgeting to fabrication to installation. To help you prepare for signage programming that is clear, concise and consistent, here are some considerations:
Create a clear system for numbering rooms
Be consistent in directional language
Symbols and icons are important for multicultural environments
Make food services and restrooms easy to find
Clearly identify entrances, exits, wings, buildings, and parking
Once priorities have been established and your goals have been defined, your signage program can address and solve for any number of the following:
Education or Instruction: Informed patients are easier patients so signage in waiting rooms and exam rooms offers a means of educating patients about new procedures, common medical conditions, and more.
Lobby and Wayfinding: Your signage can provide directions and maps for wayfinding purposes, and displays can be large screen flat panels or touchscreen.
Emergency Alerts: Healthcare facilities can send emergency alerts in real time over a network of displays
Increased Revenue: Use signage as a means of revenue by offering advertising spots for health-care related products and services.
Scheduling and Patient Services: Keep patients informed about appointment times and doctor's schedules, and with touchscreen capabilities, patients have the ability to request prescription refills, schedule appointments, and more.
There really are no limits when it comes to the design and implementation of your healthcare facility's signage program. And at Creative Sign Designs, we are a leader in implementing health care signage programs to ensure the best healthcare sign design for your facility. Schedule a consultation today to find out how you can create a unique experience with the experts at Creative Sign Designs.