Interior signs are as much a part of your business branding as they are a part of the building décor. Whether you are looking to provide directional assistance to clients and visitors, or putting your brand's logo on display for a dramatic first impression, custom interior signs provide a versatile solution for both.
Regulatory Signs
When it comes to ADA signage requirements, there is a lot to consider. The Creative Sign Designs team knows the regulations backwards and forwards and can deliver custom, ADA-compliant interior signs that are stylish and in line with your brand. When installing ADA code-compliant interior signage, you will need to consider the following: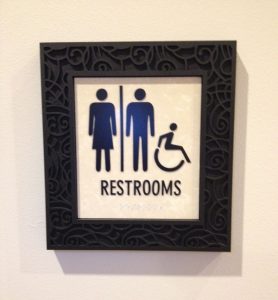 Color – words and characters must have a high contrast with the sign's background color. Typically, one very light color and one very dark color are chosen.
Font – all type must be in a sans serif font. For permanent rooms only, the type must be in all uppercase letters.
Content – braille is required for permanent room signs and must be rounded rather than square. Signs with pictograms must be displayed on a background of at least six inches in height.
Placement – sign positioning varies depending on the type of door, but in any case should be located closest to where someone would look or reach to open the door.
Review our complete summary of ADA regulations for interior signage here.
Interior Wayfinding Signs
The purpose of wayfinding signs is to get people from point A to point B with as little confusion as possible. There are several ways that Creative's custom, wayfinding signage can help map out your place of business to clearly communicate directions.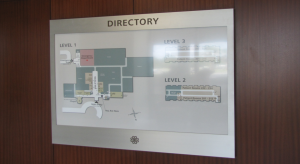 Color Coding – color is often more memorable than a name or icon. Using color to isolate areas can help distinguish between different floors or sections of your building.
Picture Themes – pictograms and digitally printed murals on the walls are a visual indicator that help visitors determine whether or not they are in the right place.
Interchangeable Content – signs with the ability to change out the content are often used in hospitals and in buildings where the use of the space varies. This could vary from a directory in a lobby with tenant names to office room identification where the name of the occupant is interchangeable.
Before starting on your custom wayfinding signs, the Creative Sign Designs team will perform a comprehensive site visit in order to plan the most effective wayfinding system just for you.
Decorative Interior Signs
Sleek, custom, decorative interior signage can turn your in-office branding into a creative design element that complements both your space and your brand.  The design options for interior, decorative signs and reception signs are endless. Creative's experts can help you create the perfect solution for your space. Some of the decorative interior sign options you have include:
Wall-Mounted Channel Letters – even though these are inside, they can still be illuminated and an eye-catching piece.
Flat Cut-Out Letters – typically pin-mounted to a wall, flat cut out letters or a logo can be made of aluminum or acrylic and have a number of finishing options.
Gallery Wall – a gallery wall can be created from images or branded content to create a unique illustration where a large space is available. A method Creative uses often, images are digitally printed and adhered between two pieces of acrylic and mounted on the wall with standoffs.
Vinyl Appliques – digital prints can be applied to a flat wall surface or on a glass surface. On a wall they serve as a decorative element often featuring branded images, while on glass they can be a unique way to create a privacy barrier.
Check out the work we did for the Capitol Theatre to learn more about our custom interior and exterior sign work.
No matter your interior sign needs, our team will work with you to deliver the ideal solution for every environment. Contact us today to get started.