Illuminated exterior signage is often located on the front of a building to advertise a business and has the benefit of being seen from quite a distance at night. There is a wide variety of exterior illuminated styles and signage types that Creative Sign Designs' sign designers are experienced in creating, so read on to learn more about these commercial sign designs.
Types of Illuminated Exterior Signage
During the consultation phase of a project, Creative's team will address the need for illuminated exterior signage based on the building size, its location and the local code . With this information, a sign designer will create a custom, commercial sign design package to include both non-illuminated signage, which we covered last month, and illuminated signs. The following  is a sample of the typical exterior, illuminated signs that Creative can make for your business.
---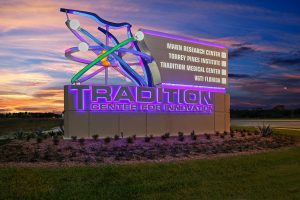 Monument Signs
Monument signs are large, freestanding exterior signs regularly mounted on pillared bases and can be either illuminated or non-illuminated. Illuminated monuments can be internally illuminated, by housing LEDs and electrical inside of the structure, or up lit, which is when there are spot lights installed around the base of the monument that shine to illuminate the monument's surface. Creative's sign designers will work with you to select the appropriate lighting solution and incorporate any unique, architectural elements to the monument sign that will match the surroundings.
---
Directional Signs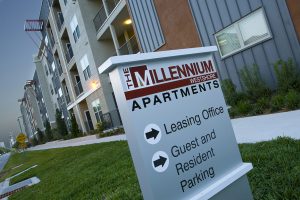 Another type of sign that can be illuminated or not is directional signage. These types of signs are often used to direct traffic in a parking lot to identify the entrance and exit, as well as, provide directions using arrows and titles. These signs would have LEDs inside of a cabinet and adhered to the structure via fasteners where the electrical for the internal illumination could be wired. Alternatively, directional signs could be freestanding where the electrical wiring would run underground. This is commonly seen on school campuses or shopping centers with directories.
---
Channel Letters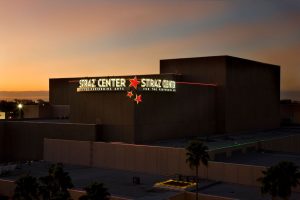 Channel letters are typically always illuminated. Illuminated channel-letter signs are metal letters that have been formed individually with internal illumination and are the most common type of sign used for the exterior of business buildings.  RGB LED lighting is used for illumination where multiple colors can be programmed allowing for different effects and color displays.
Halo Lit Channel Letter
A variation of traditional channel letters, halo lit channel letters, utilize an aluminum face and returns. Halo lit letters must be installed off the wall and are better used on non-reflective surfaces. These are called halo-lit because the lighting gives off a halo effect around the sign, versus the light source emanating from inside the letter and through the material.
---
Cabinet Wall Sign
Cabinet signs are single faced and fastened flat on an exterior building wall. This particular signage type is basically an illuminated metal cabinet box. The face of the cabinet can be made from a variety of materials with the logo or desired message, and easily changed when it needs to be updated. This type of sign is also illuminated internally with LEDs, typically a ladder-type string.
---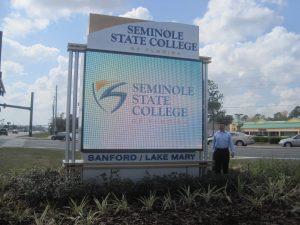 Electronic Message Center
Digital outdoor signage like an electronic message center allows you to provide information quickly on a screen-type sign. EMCs can be incorporated into a monument, mounted on a building or free standing. They are convenient to display a variety of messages and can be programmed to change at interval speeds. EMCs come in a variety of sizes and display resolutions, similar to that of a TV screen. EMCs are also referred to as LED readerboards. This type of illuminated signage displays scrolling messages used for advertisements. Our signage consultants will work with you to identify the correct digital display system for your facility.
---
Illuminated Exterior Business Signage and Materials
Creative Sign Designs manufacturers custom signage utilizing state-of-the-art materials and equipment. The types of illuminated exterior signs we've detailed are created using the materials listed below.
LEDs – RGB LED modules are often used in exterior commercial sign designs for the infinite color possibilities and instant ability to change color. The best part about incorporating RGB LEDs into your business sign design is that you can control the color, synchronize effects, and even choose and set a color scheme for a particular holiday, event or performance.
Fluorescent Lamps – There are three typical sizes of fluorescent lamps used: T12 for residential bulbs, T8 for commercial energy-savings lamps and T5 for very small lamps.
Computerized Channel Letter Equipment – A channel letter machine is used to bend a letter to precise measurements within minutes and is one of the many state-of-the-art pieces of machinery in Creative's warehouse.
Contact us today to get in touch with our professional sign designers and get started on your commercial sign design project today!