The signage you create for your structures is the cherry on top of a large project. It serves as a headline and marketing slogan, attracting potential customers to your new housing project, business center, or creative endeavor. With the right signage, you can attract key demographics to your business and win over customers with ease.
If you are launching a large-scale project, then you need a signage partner that can accommodate your scale. You need to work with a company that can handle landmark signage in sky-scraping highrises while also focusing on the same details related to labels and wayfinding.
Here is what you need to consider in your signage development process and how to find a dedicated team who can streamline the process for you.
Planning and Design
Large-scale sign fabrication takes careful planning. You're not opening a mom-and-pop store that only needs one room and one sign. Developers often build large campuses that house several businesses or mixed-use properties that fit residential and commercial needs.
At Creative Sign Designs, we start every project with a needs assessment – or a walkthrough to review every potential signage element you might need for your business. This assessment includes major signage needs (like an LED nameplate at the front of the development) as well as parking lot navigation, maps, guiding signs, and room labels. By conducting a thorough needs assessment, you can address all of your signage issues at once instead of ordering new signs through each phase of the construction process.
Our walkthroughs include a site survey, budget analysis, timeline review, and distance visibility test so we can build a project around your needs. Once we have completed our analysis, we can work on your brand development and schematic sign design. You will sign off on each of our design plans and can be as involved as you want to in the design and development process.
Finally, our team strives to offer ADA-compliant options to our customers on all projects. We use a streamlined interior sign system to ensure each sign we create is accessible, even when we take on a project that requires hundreds of different sign creations.
Materials and Fabrication
Once you have a roadmap for the types of signs you need and their sizes, you can move forward with more creative design elements. There are dozens of materials to choose from in your signs, running from upscale stone and wood signs to look-alike faux finishes.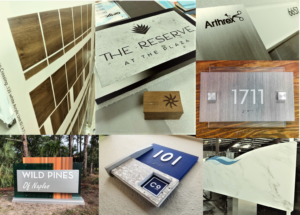 The materials you choose will combine three key factors: your budget, your brand, and your location. For example, developers on a tight budget can still create an upscale feel with a faux finish and printed sign. The brand will remain intact even if the project can't afford an expensive sign. Similarly, some materials simply aren't made for certain areas. Humidity can warp wood and rust can form easily on some signs. Our materials experts will evaluate your location and the environment where your signage will be placed to suggest the best possible materials. We want your signs to last for years, and the right materials will make your signage look good no matter what.
The physical sign material is just the first choice you will make related to your development. Our team will also review your backsplash options, LED lighting opportunities, and height options to display your signs. Whether you are looking for a ground-level monument sign that is made of stone or a banner that rests on top of your business, we can help you.
You don't need to be an expert on sign materials and manufacturing. We can help you find the right materials to match your budget and your brand goals.
Installation and Due Diligence
Sign development doesn't end with the manufacturing process. A quality signage partner will see the project through to the end and ensure each sign is installed correctly and within the proper code limits.
Every town and municipality has its own guidelines for signage. There are limits to how bright LED lights can be, the sizes of signs, and even the colors and materials used in the development process. Even if all of your signs line up with these requirements, there are also permitting needs for the actual installation. You may need to divert traffic while a crane installs a sign or require construction equipment to install a signage pole deep into the ground.
These permits and code ordinances are not your concern. A key signage partner will know how to check local requirements and get approval for the installation process. They will practice key safety measures on installation day and certify that the signs meet look safety codes and design ordinances.
A signage fabrication project isn't complete until the final plaque is hung up and approved by the client and inspector. Our team will stand by you the whole way to ensure you get the results you expect.
Choose a Signage Provider That Can Scale to Your Needs
The signage process seems simple at first, but once you map out all of your signage needs and start to look at printing options, you can see what a large-scale project it really is. To make the process go smoothly, you need a signage partner who can handle major properties and developments. Our project managers have worked with hospitals, universities, and theme parks to provide high-quality signage and design plans that are thorough. Contact the experts at Creative Sign Designs today and tell us about your upcoming projects.