Parking. Love it or hate, it's a necessary evil. As we've previously discussed, there are more than 105 million commercial parking spaces in the U.S. And those numbers show no signs of waning as cities and suburbs welcome new residents and businesses every day, increasing the demand for more – and more and still more – parking facilities.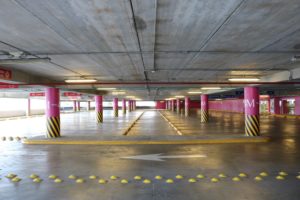 But while parking lots may not necessarily enhance the aesthetics of the spaces they occupy, thankfully, many cities are encouraging the enhancement – or even requiring – aesthetic designs for parking structures. In fact, Florida building code now states that parking structures can't look like parking structures, helping to ensure that parking facilities are more visually and functionally integrated with their surrounding communities. If four-sided, utilitarian parking lots are on the way out, it would seem that a little more forethought, planning, and design is now required.
Parking Lot Master Plans
Master plans represent a vision that weighs and solves for the concerns of different interested parties, such as the community and stakeholders, while defining and documenting the parking lot's physical locations, the number of parking spaces available, and how much will be charged to park.
There are many deliverable reports and studies that can be performed to aid organizations in defining plans with actionable and effective solutions, from a simple survey to a fully developed master plan.
Some other master plan deliverables include:
Signage master plans
Exterior & interior signage design
Experience design & curation
Lighting studies
Wayfinding analysis
Recognition system design
Parking Lot Trends & Needs
When it comes to a master plan for parking lots, there are some trends and needs to consider.
Sustainable Parking Design
An emerging trend in parking lot and garage master plans is sustainable design, which incorporates energy-efficient lighting, reflective and permeable surfaces, natural lighting and the use of LED, solar panels, recycled materials, and native landscaping to absorb CO2 emissions.
Additionally, architectural elements, such as vibrant weaves, distinctive designs, durability, and ease of maintenance, satisfy both the need for code compliance and the desire to add sustainable design elements ideal for many parking facilities.
Some common sustainable features and elements also include:
Recycled Materials: Beyond its aesthetic appeal, popularity and functionality, stainless steel, with an average recycled content of at least 60 percent, is 100 percent recyclable at the end of its use.
Minimal Chemical Footprint. Stainless steel mesh façades are exceptionally durable and boast little – if any – costs for maintenance. And because it requires no water, chemicals, or energy to maintain, it greatly reduces any environmental impact.
Alternative Vehicle Accommodations: By providing bike racks, transit paths, electric vehicle charging stations, recycling containers, and smart meters, parking lots encourage alternative, sustainable transportation practices.
Technology: An INRIX Research global study estimates Americans spend 17 hours per year looking for parking, costing $345 in wasted time, fuel and emissions annually. But smart technologies are being explored and incorporated to guide drivers to available spaces, minimizing the fuel they expend while looking for a place to park.
Wayfinding & Lighting Solutions
Parking facilities can be large, complicated, unnecessarily confusing, and sometimes even hard to find, but a well-designed wayfinding signage system and lighting solution can communicate critical navigation information, increasing utilization and visibility, reducing confusion and improving safety.
Wayfinding and lighting solutions in parking facilities include:
Entry signs
Vehicle signs
Pedestrian signs
Regulatory signs
Illuminated signs and LED lighting (sustainable energy savings too!)
Level theming
Color coding
Reimagining Parking Lots
Joni Mitchell once famously lamented that '… they paved paradise and put up a parking lot' – and while that may have once been the case, parking lot master plans armed with renewed vision, innovation and sustainability could help find a happy intersection of needs and nature, one progressive parking lot at a time.
Contact us to learn more about incorporating thoughtful and environmentally friendly elements into your next parking lot project today.