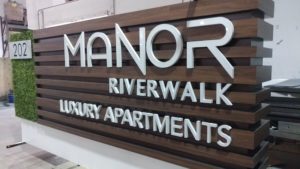 While countless trends come and go, from fashion to music to yes, even signage, one thing remains constant: signage itself will always be 'on trend.' Why? Because just as with fashion – trends change but needs don't – signage will always be necessary to help people know where they are and how to get to where they want to go.
So while we don't have a crystal ball, it's safe to say these are the trends in sign technology, fabrication materials, and processes to watch for in 2019 – and beyond.
Textured Printing
According to the Sign Research Foundation, many large flatbed printers can handle up to 2-inch thick materials, so sign companies can now print on a wide variety of surfaces, such as different grained woods and textured metals.
Building Wraps
Sign companies are now offering building wrap solutions that require a higher level preparation and installation skills, including parking garages and other structures that require quality installation. And specialty architecture metals are being used more on the exterior of larger structures, such as downtown buildings and parking garages.
UV Flatbed Printing
UV printing uses UV-curable inks which are 'cured' into a solid film that tightly adheres directly onto the substrate's surface once exposed to wavelengths of UV light. And flatbed printing added another technology innovation, creating the ability to print on multiple substrates that did not need pre-preparation for size or shape beyond the parameters of the overall size of the bed.
3D Printing
While still new, 3D printing boasts potential for ADA signs and complex interior dimensional signs as the printers can create sculptural objects and apply print graphics for customized solutions. More and more companies are moving to take advantage of this burgeoning technique to help add details to their work – but companies have only begun to scratch the surface of 3D printing's capabilities.
Direct-to-Substrate and Layered Printing
According to the Sign Research Foundation, this process can be applied to dimensional surfaces and a variety of rigid and semi-rigid materials, including metal, aluminum, wood, and plastic. Further, rapid advances in ink and printers have improved their durability, paving the way for potential outdoor use, and new machines can combine and automate a number of printing and cutting tasks, including the use of specialty aluminum, faux wood finishes, and composite woods.
RGB LED Signage Lighting
Low-voltage RGB LED signage lighting can provide color-changing accents with the benefit of a white or warm-white light source. And with dimming control, RGB signage lighting can produce over 4 billion color combinations.
LED Electronic Message Centers
Electronic message centers, also known as digital signage, are also gaining popularity with retailers to advertise promotions and limited offers. They can create brand awareness and influence consumer behavior and their ability to instantly change message eliminates the cost of print advertisement campaigns. In addition, retailers have the opportunity to earn money with their digital signage network by selling advertising space to their suppliers.
With so many exciting and revolutionary signage trends on the horizon, it seems there are no limits to what innovative signs can do for businesses. To learn more about signage solutions and what they can do for your business, get in touch with our creative sign design experts today!