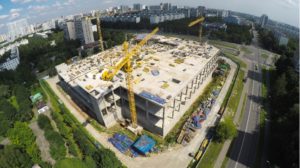 While it may come as a shock, many firms often don't see the value in proper signage for large commercial development projects, relegating it to a miscellaneous to-do list of minutiae. As such, it may not be done properly and, subsequently, the client doesn't benefit from the value of extraordinary signage. When done correctly, signage does not only provide function but can also transform urban landscapes.
Here are some common potential oversights, issues, and obstacles that stem from not assigning enough – or any – value to proper, quality signage that, thankfully, all share one common solution: an experienced signage partner.

1. Not Planning & Budgeting For Signage From The Beginning
SOLUTION: Here are some considerations and variables that you can expect – and plan for – that will impact the scope, budget and timeline for your signage from the beginning.
Material choice: From medium-density overlay, to aluminum, to foam board, to acrylic, to PVC, you'll need to choose a base material, the lettering or graphics materials, and the substrate.
Material use: As a general rule of thumb, the more material you can buy in bulk, the better the cost per unit. Buying in bulk also cuts down on waste.
Size and scale: The size, scope, and complexity of your signage will directly affect the fabrication and installation cost. Size, for example, should be based on placement so a sign that will go up at a stoplight can be small, but should be bigger, bolder and more vivid on a busy highway.
Additional variables: Complicated signage, such as those with layering and ornate details, will increase cost. Installation can also impact cost as installing a sign in soil, for example, is typically easier and less expensive than installing into concrete. There are also permits and variances to consider that can sometimes add to the timeline of a project.
2. Not Including Signage In Schematic Drawings & Renderings
SOLUTION: Make sure you include and review renderings or proofs of the signage as it will appear in real life. Ensure all wayfinding and guest experience points are covered with appropriate signage that is both functional and aligned with brand standards. With that rendering printed out, be sure to check:
Spelling: We can't stress this enough. This is your last chance to make sure everything is spelled as it should be and is grammatically correct.
Contact Information: A wrong number or a misspelled website renders your shiny, new signage all but useless. Proofread … then proofread again.
Text Size & Legibility: Make sure the size is what you expected – the height, the font, any contrasting colors, and materials. Some things work well in theory … but fail in application.
Colors: Make sure you verify your color selections and, if possible, try to get a rendering printed in color for a better, more accurate representation.
How Others View It: It can prove invaluable to ask for the opinion of people who are not intimately or directly involved with the project to gain perspective on how the signs will be perceived.
3. Choosing A Signage Firm Without Design Expertise
SOLUTION: Be sure to partner with a firm that has a team of designers who excel in creating custom sign designs. From a detailed needs analysis to wayfinding services that evaluate and establish the most effective means of informing and directing visitors, patients, patrons, and customers, your signage partner should drive your brand development as you define who you are, who your audience is, and how you are different.
They should take the time to learn about your brand, seek to understand your marketing objectives and formulate a brand image that makes an impact on your current competitive landscape.
4. Not Including Proper Wayfinding & ADA Elements
SOLUTION: Enlist the help of wayfinding consultants who will strive to effectively communicate your individual needs, provide a comprehensive and cost-effective wayfinding signage solution, and successfully determine the ideal solution for each of your environments with master planning.
Keeping up-to-date with the Americans with Disabilities Act Accessibility Guidelines (ADAAG) and local accessibility regulations is critical to crafting successful and compliant wayfinding signage design systems.
5. Trying To Manage The Signage On Your Own
SOLUTION: Hire an experienced signage company who understands the entire process. It's that simple.
Trying to consider the entire design, fabrication and installation process and all the nuances can be cumbersome. Some signs can be too big, bulky, or advanced for an inexperienced person to manage. Some branding is too complex for someone without any design experience. For how important and impactful this investment can be, it's best to enlist the help of professionals who understand the best approach and the details that need to be considered at every step of the process.
If you're ready to make your signage a priority this year, give the Creative Sign Designs team of account executives, project managers, and award-winning designers contact us today.