While signage is not often associated with corporate culture, the fact is that humans are inherently visual. And few things can communicate a message, feeling or identity than creating a corporate aesthetic that offers a physical, visual manifestation of something far more intangible – a feeling.
And that's the goal of corporate culture. Inextricably linked to a company's vision and mission, corporate culture is the only environment that you can feel. It's the feeling in the pit in your stomach when you dread going to work or the excitement you feel when you're actually excited to go to work.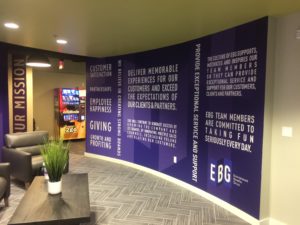 As such, corporate headquarters – through cohesive, consistent branding – can create a verve; a renewed energy, innovation and authenticity through a brand expression seen throughout the physical environment.
Enhancing Brand & Culture With Complex Graphics
Your company is more than a brick-and-mortar space; it's a canvas. It's an opportunity to cultivate and reinforce your brand's story. It clearly and acutely communicates your brand's identity to your most valuable asset, your employees, as well as partners and clients who enter your building.
Here are just a few opportunities to enhance your corporate brand and culture with complex graphics and design.
Logo and branding

With your company's logo and colors on glass or on the façade of the building, doors, and more, you take the first step in creating a visual brand expression.

Custom Wall Graphics

Brand your corporate environment with attractive and affordable wall graphics and murals in break rooms, conference rooms, and hallways to strengthen your brand and culture.

Window & Elevator Graphics

From perforated decals to static clings, to etched graphics, to visual magnetic graphics, graphics and decals are powerful, long-lasting branding opportunities.

Statement pieces

Select a reception area or recognition wall that is unique or prominent to make a brand statement that enhances the architecture and culture identity of your corporate space. Multidimensional and/or custom lighted pieces are a perfect solution for this space.

Wayfinding

Opt for custom lettering, numbers, and colors to create a uniquely branded experience as you guide people throughout your space. Room signs and common area signs to cubicle signs all tying back to the graphics and statement pieces for a complete visual brand environment.
Taking the Complexity Out of Complex Graphics
A bit of a misnomer, 'complex' graphics are anything but. In fact, you can create unique, authentic graphics on countless materials in an eco-friendly, cost-effective way.
Large-Format UV Flatbed Printers
For example, flatbed printing uses UV inks which are cured into a solid film once exposed to wavelengths of UV light that tightly bonds directly onto a substrate, providing the ability to print on multiple substrates that don't need pre-preparation for size or shape beyond the parameters of the overall size of the bed.
Environmentally, flatbed digital printing is more sustainable as it produces fewer waste cartridges and less indoor air pollution and since no printing plates or silkscreens need to be produced, flatbed printing allows shorter runs of signs to be produced more economically, too.
CNC Machining
Another step in the printing process, computer numeric control (CNC) machining with camera-vision finishing – provides a streamlined process for print and cutting applications which also boasts the ability for router and laser cutters to use photovision and registration point recognition to print and cut full sheets of nested objects.
CNC machines utilize computer numerical control over tools like lathes, routers, grinders or mills by using specialized software that enables precise control of coordination, feed rate, location, speed and more.
For the signage industry, this means that for signs that require large amounts of metal and plastic parts, often in complex shapes, this machine's multiple axes can adjust to difficult angles and help manage hard-to-cut materials.
Such printers and machines can bring the most complex graphic designs to life with the right materials and printing processes with ease.
A Partner You Can Trust
Creative Sign Designs has been providing high-quality interior and exterior signage products to corporate entities for 30 years. Contact us to let the experienced team at Creative Sign Designs guide you through your corporate headquarters project today!