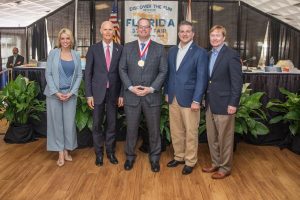 TAMPA, Fla., February 2nd, 2018 – Jamie Harden, President and CEO of Creative Sign Designs, will be presented with the Governor's Business Ambassador Award at the Meeting of the Governor and Cabinet on Thursday, February 8 at 9:00 AM. Harden will accept this prestigious award on behalf of Creative Sign Designs at the Florida State Fairgrounds' Bob Thomas Equestrian Pavilion.
For over 12 years, Harden has led Creative Sign Designs in achieving and maintaining its award-winning status as an industry-leading architectural sign company. Under his leadership, the company has been named an honoree on the Inc. 5000 List for 7 consecutive years and was awarded 1st place in Bright House Network's 1st annual Regional Business Awards in 2014. Harden is also the chairman-elect for the Greater Tampa Chamber of Commerce and was recently named honorary commander of MacDill Air Force Base's 927th Air Refueling Ring and 6 Air Mobility Wing.
The Meeting of the Governor and Cabinet is open to the public and will be streamed live on the Florida Channel at thefloridachannel.org. The Florida State Fairgrounds are located at 4800 U.S. Highway 301 North, Tampa, Florida.