When programming and designing interactive hotel signage, it's important to work with a partner who not only understands the hospitality industry, but also understands the types and quantity of signage as well as how to incorporate eye-catching design elements and customized, interactive signage and wayfinding solutions.
Below, we will outline the steps, considerations, and expectations for programming and designing your interactive hotel signage.
A Design-Build Approach
As we've discussed previously, design-build is a project delivery method in which one entity – the design-build team – works under a single contract with a single point of contact, the design-builder, who is responsible for every aspect of a project – from estimation, assessments and pre-construction, to architecture, schematics, engineering, subcontracting, construction and post-construction, to managing all contracts with companies, such as subcontractors, equipment vendors and materials providers.
Further, design-build supports a project management structure that integrates people, systems, business structures and practices to collaboratively leverage the experience and insights of all participants to optimize project results, increase value to you, reduce waste, and maximize efficiency through all phases of design, fabrication, and construction.
It reduces costs, streamlines the process for our clients, provides accurate budgets, gives greater design control, and promotes accountability.
How to Plan for Interactive Hotel Signage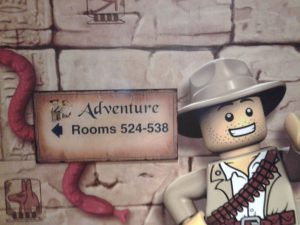 Once you've established how you will approach your programming and design, here are some things to consider and expect when planning your hotel's interactive signage:
Sign Programming
Your programming consultant should label rooms while organizing and documenting the entire process for your review. Further, they should bring an objective point of view and offer recommendations or ideas to enhance your hotel's wayfinding and identification experience.
Wayfinding Analysis
Wayfinding's ability to effectively and successfully direct a guest is paramount – welcoming the visitor, clearly defining the area, and providing directions – and the process of analyzing, identifying and meeting wayfinding needs requires balancing form with function.
Materials
Stainless steel is fancy and looks great, but when it's 10 stories up, may not make sense – or be worth the cost. Strategically planning materials based on the placement of signage can help reduce costs and enhance aesthetics and efficacy.
Compliance
Complying with the Americans with Disabilities Act Accessibility Guidelines (ADAAG) and local accessibility regulations is critical, so your wayfinding consultant should provide you with site surveys and analysis, local code compliance and analysis, representation before government agencies regarding variances, utility checks, and ADA compliance. Keeping in mind you don't have to sacrifice design for compliance.
Timing
Project management, from inception to execution, should include design, permits, installation, manufacturing process management, on-site installations supervision, and a guarantee that the finished projects exceed your expectations.
Let the experienced team at Creative Sign Designs help you plan the most customized, interactive signage and provide you the best value. For expert design-build support and the best interactive signage for your hotel, contact us today to schedule a free consultation.