While wayfinding is an essential part of any space, it's so much more than directional signage, often leaving business and building owners overwhelmed by the prospect of getting it right.
Wayfinding helps inform visitors' immediate decisions upon entering your space and guides them as they navigate themselves to each destination therein, providing spatial problem-solving.
Custom Wayfinding Strategy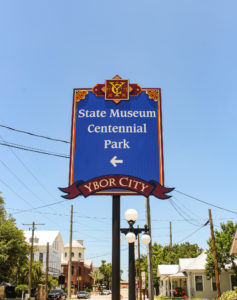 Developed by expert designers who understand space relations in a public place, as well as how to incorporate eye-catching design elements, custom wayfinding signage design provides clear and obvious direction while making a lasting impression.
Enlist An Expert in Branded Experience Design & Wayfinding
A Branded Experience Design & Wayfinding subject matter expert should be proficient in design, creative direction, project management, and design engineering. Specializing in both in-depth experiences with concept development and wayfinding master planning, an expert helps shape and execute the big picture with stakeholders while managing the iterative process, relationships, time, budgets, and assets.
With expert guidance, you can expect that every visual or graphic element within the environment will be useful, serve a purpose and do so efficiently in an impactful and intuitive manner without waste, clutter, and useless or misleading information.
Think Big Picture
Thoughtful custom wayfinding master planning for all interior and exterior spaces doesn't just consider the necessities of directional signage, ADA compliance, and local accessibility regulations. It includes a more holistic approach in order to consider all of the surroundings: different buildings, massive parking structures, interconnected walkways, unsecured and secured pathways, as well as pedestrian connectors.
Because beyond the obvious goal of helping people to find their way, effective wayfinding systems play countless important roles, especially in high-stress and high-traffic environments, such as hotels, airports, public spaces, museums, hospitals, and libraries, which provide unique guest experiences and serve to foster an understanding of any given space.
Select The Right Materials
Diversifying fabrication methodologies will yield a much greater integration of signs and interior and exterior environments, providing more opportunities to produce unique custom wayfinding signage designs. Specifically, digital graphics and large-format printing have allowed sign designers and fabricators to create quality, durable custom signs to fit even the most unique brand and needs.
Consider The Whole Process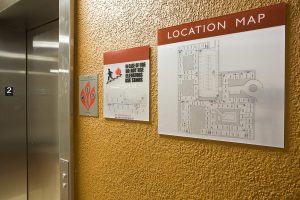 In the world of wayfinding, especially where ADA requirements must also be considered, the degree of difficulty and expertise in digital graphics and sign fabrication has increased, creating a greater need for fabricators to adopt a design-build approach.
Design-build utilizes one entity – the design-build team – which works under a single contract with a single point of contact, the design-builder, who is responsible for every aspect of a build – from estimation, assessments and pre-construction, to architecture, schematics, engineering, subcontracting, construction and post-construction, to managing all contracts with companies, such as subcontractors, equipment vendors and materials providers.
Your custom wayfinding signage design-build team should also manage the review, design, value-engineering, estimations, schedule, sourcing all costs related to fabrication, freight, and installation.
The Right Wayfinding Signage Design Partner
Creative Sign Designs is an industry leader in developing custom design and wayfinding signage solutions, and our professional designs capture the eyes of visitors to make a lasting impression. Our experts in wayfinding solutions and consultation help each client navigate permitting, design and planning to make each custom wayfinding program a success.
Contact us for a free consultation to see how Creative Sign Designs can help you create custom wayfinding signage designs today!