We've all experienced navigation anxiety. Arriving somewhere new and unfamiliar without proper – or any – wayfinding or signage can cause frustration and concerns that a misstep could cost us time, money or – in some cases – safety.
And given the scale of today's college campus environments, administrators can help visitors avoid these feelings by establishing a strong foundation for an integrated wayfinding program with the following considerations.
Hospitality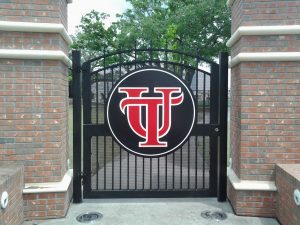 It all begins with making a visitor – a prospective student, parent, staff member, visiting faculty, community member or returning alumnus – feel welcome. As such, school administrators should assume that a first-time visitor would need campus signage with simple, consistent and reassuring messages throughout their visit.
A comprehensive approach to wayfinding means that the school has made a commitment to a shared campus signage voice – one that makes the campus more legible, understandable, navigable and, as a result, more welcoming.
Collaboration
It's important to consider that developing college campus signage will inevitably bring individuals and departments together to collaborate on how to best approach the design process. The goal of the collaborative step is to establish a sense of community, recognizing that enhancing a visitor's experience is a shared responsibility.
Built Environment
As college campuses are preexisting built environments, campus divisions, boundaries, entrances, streets and pedestrian pathways must all be considered as the team determines the context of its signage and wayfinding.
Simply put, this step is when the design process must consider how, exactly, a visitor would be instructed to navigate each area of campus. For example, if you needed to tell someone how to get to the liberal arts building, your college campus signage should use consistent language – whether verbal, in print, on the internet, in an app or on signage – and be predictably and reliably interspersed.
Adaptability
It should be assumed that changes to a physical space and brand are inevitable so college campus signage must be adaptive and flexible to accommodate changes as necessary. A good campus signage system is adaptable; a great system is adaptable while executing changes quickly and cost-effectively. And change isn't just updating signage as a department moves to a new building, for example, but also requires countless other considerations and updates for a cohesive, consistent brand and experience.
Accommodating
A college campus is a sprawling, diverse environment, so a one-sign-fits-all approach will fall short. As such, a variety of signage must be utilized wayfinding, such as monument signs, window graphics, parking lot signs, traffic signs, safety signs, ADA signage, room numbers, and other campus wayfinding signage essential to navigating any college campus.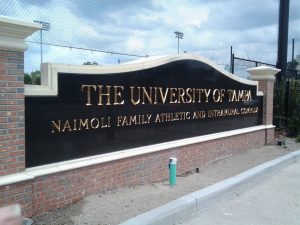 Consider the case for the University of Tampa, for example, who needed custom sign design and fabrication to complement the state-of-the-art athletic field located on West Kennedy Boulevard, near the corner of Willow Avenue. The Naimoli Family Athletic and Intramural Complex supports the university's intramural program, club field sports, men's and women's lacrosse, and women's soccer.
Seminole State College, on the other hand, underwent a renovation for which electronic message centers and exterior wayfinding signage was created for their UCF Extension, as well as their Center for Public Safety's interior and exterior signage.
Creative Sign Designs is experienced in guiding students, faculty, and visitors in and around education campuses, including interior and exterior wayfinding consultation, and matching new products with existing university signage structures.
As an expert in design and fabrication of campus signage, Creative Sign Designs is equipped to handle any school's signage project – large or small. From prep school to state university, Creative can help you better connect people to place through custom signage and wayfinding systems. Get in touch with our team to learn more.