From opening or moving a business to wayfinding, to making your brand stand out, custom architectural signs communicate far beyond the words printed on them. They convey a brand, message, and energy all your own – so it's important to take the time to make sure your signs effectively communicate with every prospective consumer and patron.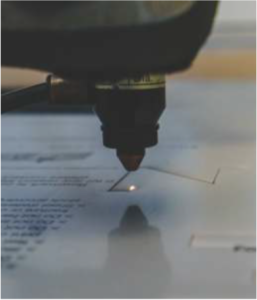 When it comes to fabricating the perfect sign or sign system, there is a certain methodology to ensure the design, space and materials are being utilized as efficiently as possible to meet your brand goals and stay within a timeline and budget. You don't want to cut corners, and with the right expertise and equipment, even the most complex and intricate custom sign designs can be realized and scaled to meet your needs.
Here are some considerations when planning a custom sign fabrication.
1. Establish Sign Design & Materials
At this stage, it's critical to understand trends and design principles in order to think outside the box. Get creative with materials, graphics, finishes and more for a custom design that will work.
Some trends to consider are …
Textured Printing
Many large flatbed printers can handle up to 2-inch thick materials, so sign companies can now print on a wide variety of surfaces, such as different grained woods and textured metals.
Building Wraps & Graphic Integrated Exterior Architecture
Sign companies now offer building wraps to create a more aesthetically pleasing exterior for larger structures, such as downtown buildings and parking garages, as well as specialty architecture metals.
3D Printing
3D printing boasts potential for ADA signs and complex interior dimensional signs as the printers can create sculptural objects and apply print graphics for customized solutions.
Direct-to-Substrate & Layered Printing
This process can be applied to dimensional surfaces and a variety of rigid and semi-rigid materials, including metal, aluminum, wood, and plastic.
RGB LED Signage Lighting
Low-voltage RGB LED signage lighting can provide color-changing accents with the benefit of a white or warm-white light source with over 4 billion color combinations.
LED Electronic Message Centers
Electronic message centers, also known as digital signage, can create brand awareness and influence consumer behavior with their ability to instantly change message.
2. Designer-Fabricator Collaboration
When designers and fabricators work together, you ensure every detail has been considered and the end result is a perfect mix of form and function – without worrying about misalignment of plans or sourcing. From surveying to scaling, to schematics, proper planning can ensure sign fabrication is done right the first time.
Some factors to consider include …
Location
Once a tentative location is selected, measure the space in order to visualize how the sign will impact the overall aesthetic and adjust accordingly.
Distance
Metrics, such as the maximum viewable distance, will help inform you in choosing the right size to maintain easy visibility.
Message Length
Draft exactly what you want your message to be then – and this is critical – trim out as many superfluous words you can spare to make sure it is concise and clear. Less is more.
Branding
Your sign should be a fluidly continuous extension of your brand narrative so make sure that all copy complements the aesthetic and feel of your business and its brand.
Proofing and Scaling
Proof your message for misspellings, grammatical errors, printing issues, and more. Consider enlisting the help of someone who's spelling- and grammar-savvy.
3. Use Scalable and Sustainable Equipment
When the state-of-the-art equipment is available, you can be sure innovation and efficiency are working hand-in-hand. Custom design doesn't have to come at a high cost when you have the right equipment and processes at your disposal.
Some advanced fabrication equipment includes …
CNC Machining
CNC machining provides a streamlined process for print and cutting applications with the ability for router and laser cutters to use photovision and registration point recognition to print and cut full sheets of nested objects.
The CNC machine utilizes computer numerical control over tools like press brakes, shears, routers, grinders or mills by using specialized software that enables precise control of coordination, feed rate, location, speed and more.
For custom sign fabrication, this means that for signs that require large amounts of metal and plastic parts, often in complex shapes, this machine's multiple axes can adjust to difficult angles and help manage hard-to-cut materials.
UV Flatbed Printing
UV flatbed printing uses UV-curable inks which are 'cured' into a solid film that bonds directly onto the substrate's surface once exposed to wavelengths of UV light.
Additionally, flatbed printing provides the ability to print on multiple substrates that don't need pre-preparation for size or shape beyond the parameters of the overall size of the bed.
Environmentally, flatbed digital printing is more sustainable as it produces fewer waste cartridges and less indoor air pollution and since no printing plates or silkscreens need to be produced, flatbed printing allows shorter runs of signs to be produced more economically, too.
At Creative Sign Design, we are extremely skilled at understanding and managing site requirements and conditions, city or municipal desires and mandates, fabrication limitations, and client expectations. And with our design | build process, our clients enjoy fewer steps, fewer partners, and less ambiguity for better pricing, higher quality, and exceptional results.
Contact us today to see how Creative Sign Designs can bring your sign fabrication ideas to life!