Illuminated signage and lighting are often located on the front of a building to advertise a business with the added benefit of being visible from quite a distance, day or night. Since illuminated signage solutions are effective in virtually every industry – from healthcare to education, to restaurants and retail, hospitality and more – it seems there are no limits to what innovative illuminated signs and lighting can do for businesses. Here are a few of their advantages.
How Illuminated Signage & Lighting Benefit Businesses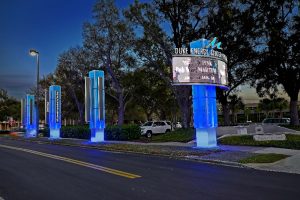 There are a wide variety of illuminated signs and solutions that can help your business get noticed. Whether traveling down a highway or looking for direction, signage and lighting help catch the attention of potential customers making it an easy advertising medium.
From housing LEDs and uplighting to electrical wiring and internal illumination, there are solutions to make any building or location visible from long distances. Additionally, digital signage like an electronic message center, is often used by retailers to advertise promotions and limited offers. And beyond creating brand awareness and influencing consumer behavior, digital signage can serve as an excellent outlet for information, 24 hours a day.
Infinite Branding Opportunities
Low-voltage RGB LED signage lighting can provide color-changing accents with the benefit of a white or warm-white light source. And with dimming control, RGB signage lighting can produce over 4 billion color combinations to attract customers, guide visitors and brand your business at all hours.
Illuminated signage can be based on the building size, its location and the local code. Armed with this information, a sign designer can create a customized commercial sign design package that includes illuminated signage with virtually limitless possibilities for narrowly tailored branding.
Energy Efficient
LED signs are powered by 12 volts DC while neon, for comparison, is powered by 4,000 to 15,000 volt AC.
Consider the case for Gator Ford. By installing the LED replacement system by retrofitting the old, non-energy efficient fluorescent bulbs with a high-end LED product, Gator Ford saved 10% a month in energy costs with a return on investment of fewer than two years.
And BONUS: It took half of the LED lights to illuminate their lot twice as bright.
Cost Effective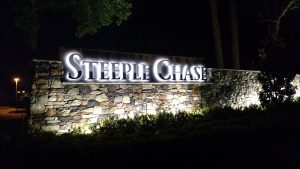 As with the case for Gator Ford, Fox 13's SkyTower Radar also benefited from illuminated signage. The use of LED uplighting was a cost-effective alternative making an impact on a stand-alone piece. SkyTower Radar, a three-sided architectural masterpiece standing 150 feet tall, achieved complete light washing of the structure – from top to bottom – with three custom built light structures on each side for the most economical and impact solution.
Additionally, the use of a multi-colored LED system allows Fox 13 to change the colors for weather threats, holidays, or to show support for a local sports team.
Safety
For any scenario that requires directing people to safety – whether during day-to-day operations, like guiding a visitor through a parking garage, or one-time events, like natural disasters – illuminated signage provides high visibility in times of need.
In retail and health care settings, digital wayfinding provides a simple interface for customers to interactively navigate with ease as the bold and bright face of digital wayfaring map serves as a beacon for lost visitors. Additionally, the technology can be used to display more than directions. Helpful information, estimated wait times, and other critical communications can be shared on interactive digital wayfinding screens.
And in the chaos of an emergency situation, digital signage can provide real-time communication and simple directions to prevent panic by providing information in big, bold letters and graphics with dynamic presentation capabilities for maximum impact.
A Lighting & Signage Partner
Through our extensive experience with illuminated signage, we have developed expertise in LED lighting. Our art team can create a new design or a retrofit solution for a myriad of lighting needs to boost visibility in parking lots with brighter, more efficient LED lights, elevate the look of properties with strategic lighting choices, and enhance monuments with LEDs that change color.
Contact us to learn more about custom illuminated signage solutions today!