When you consider that most – if not all – guests staying in a hotel are there because they're visiting from elsewhere, it makes sense that we've covered the topic of hotel signage and wayfinding extensively.
Because from navigating the parking lot to wayfinding in the lobby, common areas, corridors, and hallways, hotel signage proves unimaginably critical for guests trying to get from where they are to where they want to be.
Here, we've rounded up some of our best articles on all things hospitality: common pitfalls in hospitality signage, interior hotel signage, exterior hotel signage, and hotel signage programming and design.
Planning Hotel Signage
Common Signage Stressors & How To Prevent Them
Many firms often don't prioritize proper signage for large commercial development projects, relegating it to a miscellaneous to-do list of minutiae. As such, it may not be done properly and, subsequently, the client doesn't benefit from the value of extraordinary signage. When done correctly, signage does not only provide function but can also transform urban landscapes.
Here are some common potential oversights, issues, and obstacles that stem from not assigning enough – or any – value to proper, quality signage that, thankfully, all share one common solution: an experienced signage partner.
Hotel Interior Signage Considerations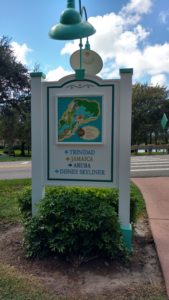 When developing a commercial building such as a hotel, interior signage requires that attention be paid to every detail. From creative wayfinding, to statement pieces, to room numbers, to ADA/Code Compliant signage, it's important to design architectural interior signs and graphics– that satisfy both form and function – early on to align with the project as a whole.
Managing the implementation of a brand for interior signage requires an in-depth understanding of various factors, such as the number of signs, types of materials, brand goals and guidelines, and client expectations. With an experienced signage partner and a design-build approach, however, there is a seamless transition from the academic design process to the performance of fabrication and installation for interior commercial signage.
Here are some additional considerations to weigh when planning hotel interior signage.
Hotel Exterior Signage Considerations
There are many instances where a hotel will work with solely with a branding agency on guest experience and branding for a hotel but often, it doesn't align well with the sheer volume of signage most hotel properties need. From a guest experience perspective as well as an ADA and municipal code-compliance perspective, there is a lot more to hotel signage than aesthetics, and your interactive signage partner should know what – and exactly how much – will bridge the gap between design and functionality.
When programming and designing interactive hotel signage, it's important to work with a partner who not only understands the hospitality industry, but also understands the types and quantity of signage as well as how to incorporate eye-catching design elements and customized, interactive signage and wayfinding solutions.
Here, we will outline the steps, considerations, and expectations for programming and designing your interactive hotel signage.
Hotel Signage: Case Studies
Now, we could talk about hotel signage all day because, well, we could talk about any signage all day – but we also appreciate that it's hard to conceptualize all of the considerations, ideas, suggestions and approaches above without context.
So here are a few case studies of our hospitality signage clients who have entrusted us to bring their big ideas on paper to life.
Wyndham Grand Resort Clearwater Beach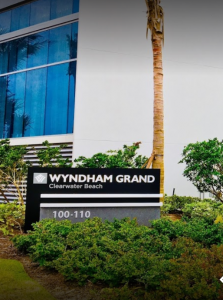 The hotel's exterior scope of work included several sets of reverse-lit channel letters for building identification, a monument sign, and parking garage signage. We also fulfilled the hotel's interior signage needs, including room IDs, amenity signage, restaurant and spa signage.
The hotel's interior signage package included a custom back panel in a lattice design to mimic the airiness of the property. The reverse-lit channel letters showcase the property and there are sets at street level, as well as topping the 15-floor structure. We also fabricated a monument sign, push-through letters announcing Dock's bar and Ocean Hai restaurant, and signs for the Pallavi Spa and parking garage.
Waterline Marina Resort and Beach Club
We collaborated with the resort to help develop a one-off signage package – including the hotel's exterior illuminated wall signs, interior life safety, wayfinding and amenity signage – that fits not only the theme but the location of the property.
The entrance of the hotel received a sleek illuminated building sign built to wrap around the pylon of the porte-cochere, with engraved aluminum for unit IDs to real wood and hand-stained directional wayfinding signage.
LEGOLAND needed a wayfinding Totem system for their newly developing LEGOLAND Beach Resort for guests navigating the site on foot, requiring a very user-friendly wayfinding solution.
As such, we designed a series of interchangeable post and panel displays, each manufactured to resemble LEGO Bricks, as well as a red-and-white white painted column to simulate a stacked LEGO Brick, totems identifying huts via digitally printed LEGO characters, message set onto aluminum panels, and double-post 'decision displays' to greet guests as they drive into the main parking area.
Disney's Caribbean Beach Resort
We partnered with the Imagineers at Disney to produce and install signage that enhances the feel of the property with new island-style offerings, including a new front desk and concierge area.
With a Caribbean theme, the designs included pastel coloring, the look of aged wood, and faux bamboo for the resort entrance, interior ADA signage, marquee signage for dining and merchandise, and directional wayfinding for vehicles, buses, and pedestrian traffic.
With our extensive experience in exterior and interior hotel wayfinding consultation, signage design and fabrication of illuminated signs, Creative Sign Designs is the perfect hotel signage company partner for your hospitality signage needs.
We can design, fabricate and install custom signage for the most custom and cutting-edge hotel while preserving consistency and branding for each of our valued clients. Contact us to let our experienced team help you plan the most customized, interactive hotel signage with expert design-build support and the best interactive signage for your hotel today!